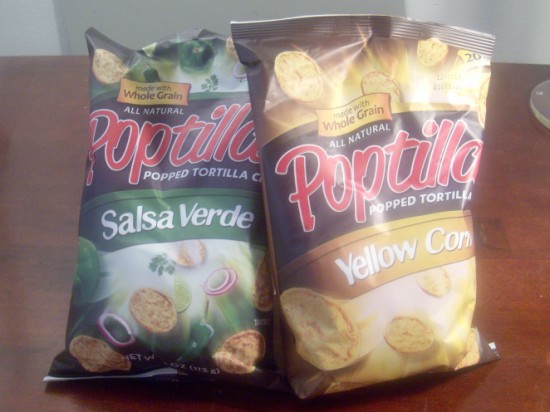 When the weather starts turning chilly, I like to invite a few friends over and to watch hockey on the tube or play board games. Since it appears we may not have hockey for some time, it will be games this year.
My favorite would be Monopoly, with a close second being cards.
We play, eat, have good conversation and everyone is in a good mood.
One of the best parts of these evenings is the snacks that everyone brings.
We can always count on a really great dessert or two, chips and dip, and usually some sort of exotic find from the local health food store, brought by our one vegan friend.
Recently, I discovered
Poptillas Chips
and served them for Game Night.
They were perfect for dipping!
They were light, but flavorful, and we all loved them!
I had all three flavors; Corn, Nacho Cheese and Salsa Verde.
The Corn had a real corn chip flavor, but was not heavy at all.
Poptillas made a great base for Hummus and a Seven Layer Dip.
The Nacho Cheese chips were good as a base for Nachos.
The Salsa Verde were wonderful, right out of the bag!
Needless to say, we devoured all three bags in minutes, and wanted more!
The good part of this find is that Poptillas are lower in fat than regular chips because they are popped instead of fried.
They are all natural, gluten free and made from whole grain.
They contain no preservatives, no transfats, and no high-fructose corn syrup.
Poptillas aren't available everywhere – yet. But you can ask your local grocery store to carry them.
They are available on Amazon, too.
Poptillas are a great snack food that you don't have to feel guilty about when you eat it.