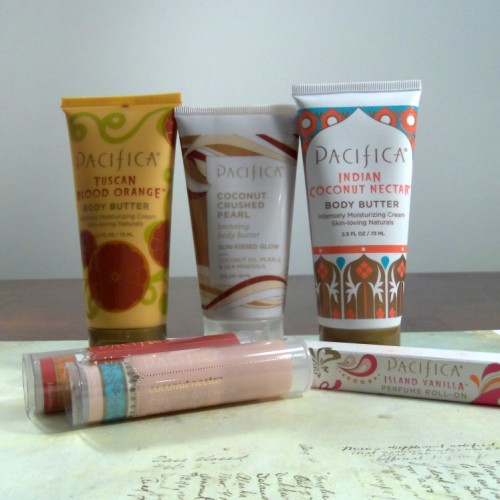 I may be a little in love with lotions, potions, and other girly stuff. I have a ridiculous number of tube of lotions, all with different formulations and/or scents. What's the problem? OH! I have a lotion for that! For me to really fall in love with it, it needs to have a nice formulation and a great scent.
Pacifica fulfills both of these requirements. Their lotions are really rich and creamy, with heavenly scents. I have to admit, I was not familiar with the Pacifica line. So, when I received an exquisitely wrapped gift box, I was more than a little impressed!
Once I unwrapped the box, I was presented with a fantastic collection of items. There were three tubes of body butter, two Color Quench tinted lip balms, and a roll on perfume.
First up are the body butters. The varieties included Tuscan Blood Orange, Indian Coconut Nectar, and Coconut Crushed Pearl. The Tuscan Blood Orange has a very deep, rich orange scent. The Indian Coconut Nectar smells like fresh coconut, not at all like the "tropical coconut" scent that we've become accustomed to. The Coconut Crushed Pearl has a very light bronzing effect, with a bit of shimmer. This one didn't have much of a scent – it just smells kind of beachy.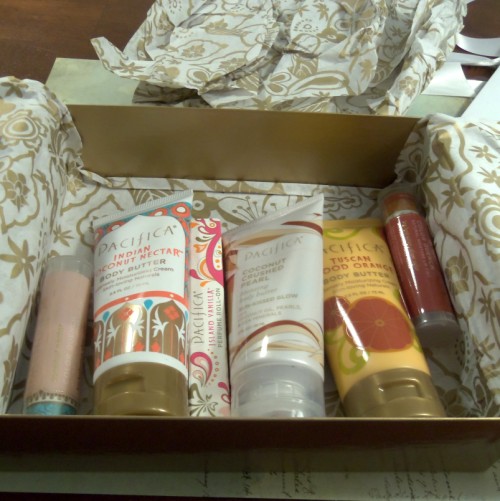 As I have mentioned a time or two, I am a lip balm addict! The Color Quench lip balms are lightly tinted. They're made with coconut oil and cocoa butter, which is a little bit odd to me. There was a Coconut Nectar and a Blood Orange variety. I am not a big fan of scented lip balms, as I don't like to smell them, then lick my lips and have no payoff! However, they do smell really, really, good! The Coconut Nectar is basically a nude color, while the Blood Orange has a sheer pinky tint. Overall, they wear nicely and are very moisturizing. They're also pretty large for lip balms.
There was also a Perfume Roll On in Island Vanilla. It smells really good, and wasn't at all overpowering. I feel like it needs to be shaken up before you use it, or you just get the alcohol base. The Island Vanilla is subtly sweet. The packaging is pretty nice, too. The tube is silk-screened with a modern Florentine design and a matte bronze cap.
All of the Pacifica products are cruelty-free, which means they're never tested on animals. Many of their products are vegan, as well.
I was very impressed with the quality of the Pacifica line, and will definitely consider it in the future.