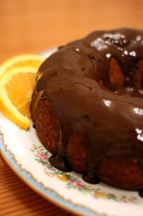 Photo by Andres Ramirez
This is a cake that is meant to impress, without tons of work involved. It can be mixed together in a single bowl and then toss it in the oven. Rich, creamy crème fraîche makes it incredibly moist, and lots of orange zest and orange juice give it intense orange flavor. A quick bittersweet chocolate glaze is the final touch that makes this cake The One (and yes, we would marry it if we could).A Bundt pan is best for maximum visual appeal, but a springform pan or a simple round cake pan will do as well.
1 cup crème fraîche

2

/

3

cup vegetable oil

1 cup sugar

grated zest of 2 large oranges

1/4 cup fresh squeezed orange juice (from about 1 orange)

2 tablespoons lemon juice (from about 1/2 lemon)

11/2 teaspoons vanilla extract

3 large eggs

11/2 cups all-purpose flour

11/2 teaspoons baking powder

1/2 teaspoon baking soda

1/2 teaspoon table salt

bittersweet chocolate drizzle (page 1 5)
Preheat oven to 350ºf . Oil or butter a 10-inch bundt pan or 9-inch round cake or springform pan .
In a large mixing bowl, whisk together crème fraîche, oil, sugar, orange zest, orange juice, lemon juice, and vanilla. Add eggs and whisk until incorporated. Add flour, baking powder, baking soda, and salt and whisk until just combined. (Don't worry if there are small lumps; you don't want to overmix this cake or it will become dry.)
Pour batter into prepared pan and bake in preheated oven for 30 to 40 minutes, until the top is golden brown and a toothpick inserted into the center comes out clean. Remove cake from oven, place the pan on a wire rack, and let cool for 15 minutes.
Remove the cake from the pan by running a knife around the side of the pan and inverting it directly onto the wire rack. (If you've baked the cake in a flat-bottomed round cake pan rather than a Bundt pan, invert the cake onto the rack and flip it over so that the bottom of the cake, not the top, is resting on the wire rack—otherwise you'll end up with unattractive indentations from the cooling rack on the top.) Let cool completely. Transfer to a large plate or cake platter before glazing. When cake is completely cooled, drizzle the chocolate glaze over it until covered to your liking (you may have extra glaze left over) and let sit at room temperature at least 1 hour before serving. Serve at room temperature.
Serves 12 .
Make it ahead
The cake can be made and glazed 24 hours ahead and kept, uncovered, on the countertop. When the cake has been cut, cover with foil or plastic wrap and keep on the countertop for a couple of days.
Variations
·

Instead of one large cake, make cupcakes using a cupcake or muffin tin. Reduce cooking time to about 25 minutes (or until a toothpick inserted into the center comes out clean).

·

Instead of chocolate glaze, make an orange glaze by stirring together 1 cup powdered sugar and about 3 tablespoons (more if needed to make a smooth glaze) fresh-squeezed orange juice (from about 1/2 large orange).

·

Replace the orange zest and juice with the zest and juice of 1 large lemon or 2 small limes (leaving out the additional tablespoon of lemon juice) and glaze with a mixture of 1 cup powdered sugar and about 3 tablespoons (more if needed to make a smooth glaze) lemon or lime juice.

·

Make a rich chocolate version of the cake by leaving out the lemon juice (the orange zest and juice can be left in for a chocolate-orange version or left out for a straight chocolate version) and adding

2

/

3

cup unsweetened cocoa powder with the other dry ingredients. Glaze with the orange glaze above or the bittersweet chocolate glaze.
From The Lazy Gourmet: Magnificent Meals in Made Easy, by Robin Donovan and Juliana Gallin; published by Viva Editions.
Copyright © 2011 Robin Donovan and Juliana Gallin