Sooo…Nordstrom is one of my favorite stores to shop at when I'm feeling like splurging.  There's great items that are nice quality, a little bit of personalized service, and you get to feel special.  That's a total win, right?!?!
When you shop their sales, it's really budget friendly, too.  Right now, the Nordstrom semi-yearly sale is going on.  People literally wait in line, and take a day off work to attend.  Unfortunately, there's only ONE Nordstrom store in my ENTIRE STATE!!  Can you believe that??  I guess I became super spoiled living on the west coast, where there are tons of locations.  These mix and match wardrobe pieces are some of our favorite items from the sale.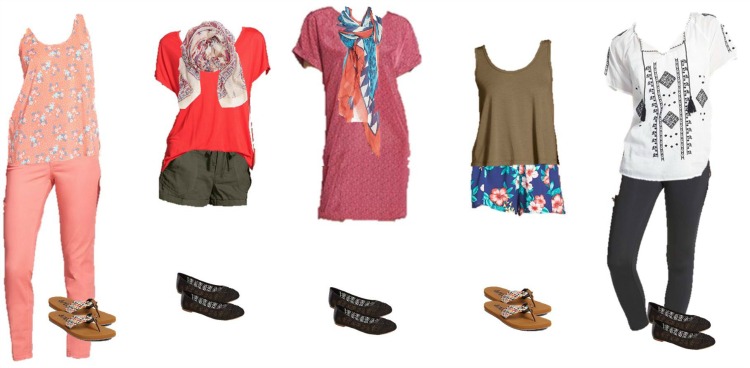 If you bought everything on this list, the total would be right under $350.  Even then, the most expensive item included in this mix and match wardrobe essentials is only $46.  Such a great selection that can really infuse a lot of personality into your closet for summer.  And beyond!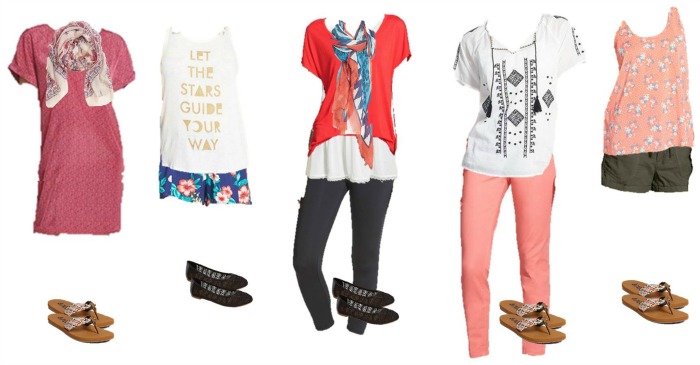 This post contains affiliate links.  If you make a purchase through them, we get a few cents to put towards our glitter addiction.
Woven Shift Dress  ($22)  //  Coral Skinny Jeans ($26.40) //  Cotton Gauze Shorts  ($38) //  Flower Print Shorts  ($23)  //  Cropped Leggings ($24)  //  Print Swing Tank  ($16)  //  Solid Swing Tank  ($11)  //  Let the Stars Guide Your Way tank ($13.17)  //  Embroidered Split Neck Top ($15)  //  Lace Hem Camisole ($17)  //  Wide V Neck Tee ($23)  //  Lucky Eartha Flats ($46)  //  REEF Flip Flops ($30)  //  Medallion Print Scarf  ($10)  //  Panthera Scarf ($32.16)