Noodle and Boo is a high end baby care line. Consisting of items ranging from shampoos, lotions, and body washes to stuffed animals, towels, and grooming sets, there's something for everyone. This is a line that has been used by many celebrities, including Jennifer Garner, Brooke Shields, and Alessandra Ambrosio.
Their Super Soft Lotion is ahhh…mazing! It's very lightweight, so it soaks in quickly. And it will leave your skin baby-soft. Ba-dum-bump-ching! One of the features that I really liked is that there was no greasy feeling. Just nice, soft skin. And of course, that good baby smell! It didn't smell too much, though. It's just sort of sweet and gentle instead of overpowering.
Noodle and Boo also sent along a Newborn 2 in 1 hair and body wash. This is designed to gently cleanse baby's hair and body without stripping the natural moisture from baby's tender skin. I didn't notice a scent on this one at all – maybe a really really faint scent. Admittedly, I didn't try this one out.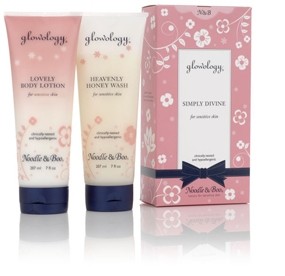 One of the great things is the packaging. I love the pearly pink custom bottles with the silhouettes. So cute. The outer boxes are great too. They have the same silhouette plus a printed bow. These look a lot more expensive than the $15-30ish price range. You can find it in higher end department stores like Nieman Marcus and Bergdorfs, as well as independent boutiques. Noodle and Boo also has a line for grownups called Glowology.
Noodle and Boo products are made in the USA, too. The products are cruelty free and never tested on animals. Noodle and Boo donates a portion of their proceeds to charitable causes.