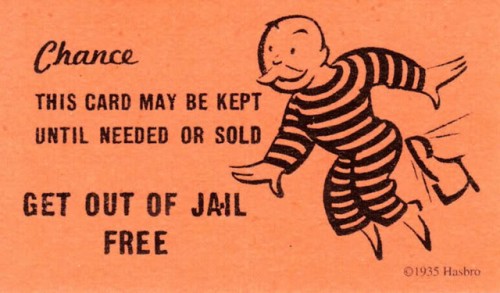 I've always been a major Monopoly fan. I don't know how or why it started, but I have always loved that game. I know it started at an early age, and all I can come up with is that when I was 4 or 5, I had a babysitter that used to let us play Monopoly all day long. I mean, I suppose that's one way to keep the kids occupied, right?
I've often wondered what I'd do if I had a real "Get Out of Jail Free" card. I suppose that it would depend if it was for one time use or if it was more like a superpower, where I never had to go to jail. Because, c'mon! If it was a one-time use, you'd have to be really choosy.
If it was a one time use, I'd save it for when I really needed it. I mean, what if you used it on something frivolous, like soaping fountains, then were wrongly accused of murder? How horrible would that be? You'd have to rot in jail, knowing you were innocent AND that you'd used your "Get Out of Jail Free" card. Talk about a double whammy!
Now, if it was a permanent superpower-type "Get Out of Jail Free" card, that would be totally different! I would live my life with no fear of jail, which might be bad. While I doubt that I'd go around and commit heinous crimes, or even petty crimes. I'm a total follow the rules kind of person. However, one of the major deterrents of society would simply be removed. I might not be able to silence the voices that tell me I should take a letter off a sign or soap fountains. Haha. Really, though, I'd probably use my card for good. Protesting causes and such.
How would you use your Get Out of Jail Free card?