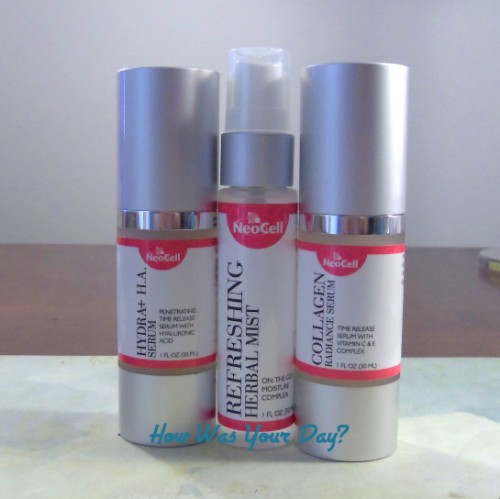 I've always been lucky, as I've never had to worry about my skin too much. In fact, some might say I even neglect it. I have been known to commit many beauty and skincare sins. Sins like sleeping in my makeup, not moisturizing, I use body lotion on my face, and going without sunscreen. I'm sure there are tons more, but those are the ones that immediately come to mind.
Through it all, my skin has continued to be pretty great. I've never had a problem with acne, it's a little on the dry side but not too terribly bad, and I have just barely begun to see tiny little signs of aging. All in all, I'd have to say my skin's been a lot better to me than I have to it. Luckily, there are treatments that can help to reverse the damage that's been done.

Neo Cell has several of these beauty treatments. Treatments like serums, refreshing mists, and supplements. NeoCell is a small, family owned company that has it's basis in research. Their health, beauty, and wellness products are all doctor formulated, so you know they work!
The NeoCell Collagen Radiance Serum has time-released micro capsules that deliver collagen-stimulating items directly to your skin. Fat soluble vitamins C and E help to rejuvenate your skin's elasticity, moisture, and firmness. The formula delivers the nutrients exactly where they're needed for your skin. How great is that? Plus, it's paraben free.
Hydra+ Serum is a Hyaluronic Acid serum. Hyaluronic acid is essential for cell hydration and lubrication in your body. It's also been shown to help with cell turnover within your skin. This serum uses liposomes to help plump your skin, infusing soluble collagen and antioxidants in your skin. Plus, it acts on a time release formula, so it's working all day long. This one's paraben free, too!
The Refreshing Herbal Mist is exactly that. It's a really great mist that just feels good. It refreshes with moisturizing collagen, balancing herbs, and vitamins. It also has free radical scavengers and aloe vera, to really make you feel good! You can use this before or after moisturizing, applying makeup, or anytime you feel that you need a little moisturizing pick me up.
Another feature I liked was the price point on the Neo Cell products. They're really reasonable – with the Refreshing Herbal Mist retailing for around $10 and the Collagen Radiance Serum around $22. The Hydra+ Hyaluronic Serum is $34.95, and is still a total bargain at that price.