There are lots of things that make me happy. Bar cookies. Baby Animals. A good joke. Hockey. Well, we definitely need to add cosmetics to that list.
Lotions. Potions. Makeup. I love it all. Needless to say, when I received a care package from Lady Soma, I was pretty excited.
They were generous enough to send me a bottle of their renewal serum. I've always been of the opinion that I don't need serums and wrinkle treatments, as my skin has pretty good texture and I don't really have the start of any lines or wrinkles. I figured I'd give the Renewal Serum a go and see what I thought of it.

After just a couple days, I noticed a marked change in my skins softness and smoothness. I had been applying it to my face and neck. I noticed a spot by my ear where I hadn't been applying the serum. I was genuinely shocked by the difference. The patch by my ear felt almost scaly by comparison!
A couple weeks have passed since I started using the Renewal Serum. I've noticed that my makeup goes on smoother, my moisturizer seems to be more effective, it's really amazing! It's lasts a long time, too. A little dab will do ya! Well, really, a couple pumps will do ya.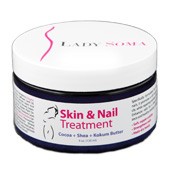 The other item I received was Skin & Nail Treatment. This is a deep conditioning treatment for your hands. Made with ingredients like Cocoa, Shea, and Kokum butters, this is quite a luxurious cream. I used it on my feet as part of a DIY pedicure treatment. There was an almost immediate difference in my skin. The change seemed to last, too. It didn't just moisturize briefly, then dissipate.
Can we talk about the scent for a minute. O.M.G! The Skin & Nail Treatment smells soooo good. We were trying to decide what it smelled like. The general consensus was that it smelled like candy, but not overly sweet. Candy mixed with a light floral scent, maybe. But, we couldn't find any fragrances on the product label, so is it possible this is a naturally occurring scent? WHOA!
Perhaps the best feature of Lady Soma is the fact that they use organic ingredients in their products, wherever possible. They do not use any chemical ingredients as identified by the Green Guide or chemicals listed as hazardous by the Campaign for Safe Cosmetics or the European Union Cosmetics Directive, either. How great is that?
What do you think of natural products? Do you prefer them? Let me know in the comments.