When I was a kid, National Geographic was one of my absolute favorite gifts I ever received.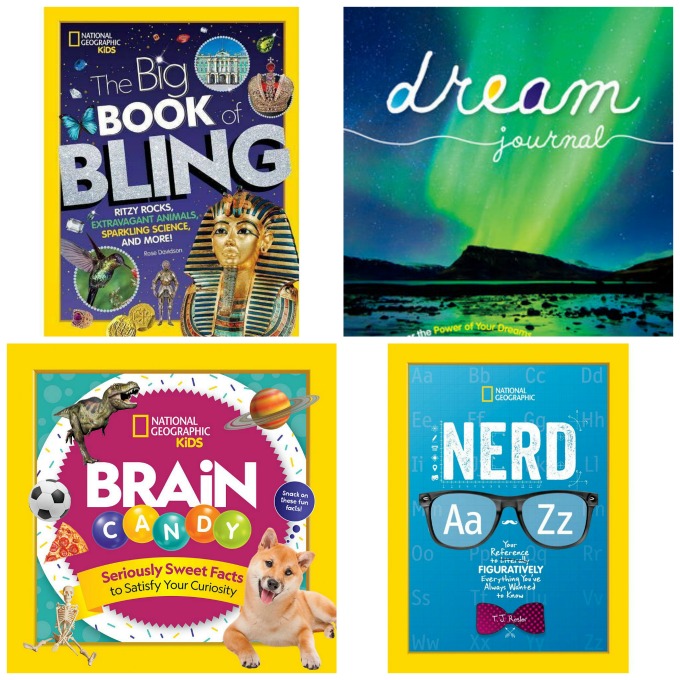 At that time, they didn't have kids' books, or a magazine geared toward children, so some of the subject matter was beyond my scope, and somewhat mature.
Links may be commissioned.
Well, National Geographic has a whole childrens' division now. And we've partnered with them to give away an assortment of these fab books. One lucky reader will win the following books:
Brain Candy – Everyone loves trivia, except maybe the parents of a kid who just got a trivia book. Brain Candy is jam packed full of great trivia that's age appropriate, spanning just about every topic.
Nerd A-Z – This is more of an encyclopedia lite. Full of factoids that are more like little wikis than trivia.
Dream Journal – Kids can keep track of their dreams, learn how to decipher them, and see what kind of connections their dreams may have to one another.
The Big Book of Bling – Lots of info about all things that sparkle. From rocks to science to gleaming animals – it's alll covered in here.
All in all, it's a $50+ value, and perfect for the kids in your life. Ready to enter? Do so in the Rafflecopter form below
This is part of the Winter is Coming hop hosted by The Kids Did It + The Mommy Island. Now that you've entered here, see what other awesome prizes are out there.