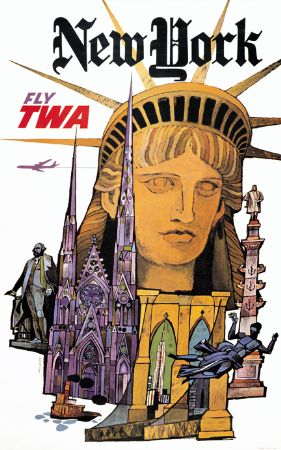 There's a huge blogger conference taking place the first week of August. The conference is taking place in New York City. NEW YORK CITY? Does anyone else remember that old commercial – I think it was for salsa. Anyway, with all these crazy blogger ladies descending on the city, there are lots of plans being made. One of the things that I'm discovering is that for many of these bloggers, this will be their first flight. Therefore, I will share some of my fun flights & experiences.
I was somewhat surprised to hear this, as my first flight was before I could remember it. The first plane ride I remember, though, was going to see my dad when I was 5 or 6. I was a very confident flier, and didn't need no stinkin' child flying alone escort. No siree bob. I don't remember much about the flight itself. However, once I got off the plane, I was to be met by my dad. I disembarked the plane, started down the tunnel and simply bowled right past my dad. He's chasing me, calling my name, and I was just gonna go get my luggage!
There was also the time, when I was 6 or 7, that I lost my crayons. I had been coloring while waiting on the plane. For some reason, I decided not to put my crayons away at liftoff. The crayons then rolled off my tray, and down the aisle, under all the seats. Throughout the whole flight, we could hear them roll back and forth every so often.
I've had lots of fun plane rides. Singing flight attendants, celebrities, pilots that love to point out natural wonders, and more have been a few of my flight experiences. Heck, on one flight, I even learned a little bit of Korean!
There have been bad flying experiences, too, but I won't go into those. I don't want to scare my blogging friends that aren't seasoned travelers.
I wish I was going with them! However, we shall meet up at next year's conference.
Tell me your best (or worst) flight experience.