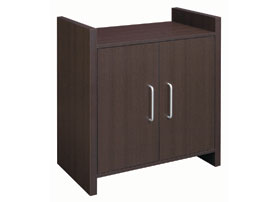 I like order to things. For many years, I have been content in buying plastic shelves for the extra room, holding plastic shoe box bins of my junk treasures. I was happy, thinking that I had developed a neat orderly system. Besides, they were cheap, easy to assemble, and I could get them almost anywhere.
Au contraire, I say! I was recently informed that I needed a 'more adult' style of order.
"How could you criticize my perfect system? It has served me well since college!"
"My point exactly. How many years since you graduated?"
Oh snap! The point had been made – and I set out on a mission to find a more permanent solution to my storage issues. I had a list of must haves. It must look nice, must be easy to assemble, must be 'cubby-ish,' must be easy to move, and must be able to fit in my car. I was sure that if I put enough 'musts' on my list, I could stay with what I was using…but I was WRONG!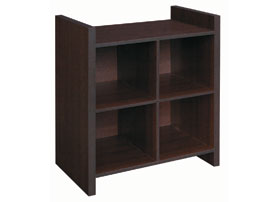 I was at one of those big-box stores, and saw the ClosetMaid ArrangeMents line, and it was love at first sight! The line is contemporary, but fits in well with my eclectic mix of vintage and new furnishings. I chose the dark mahogany finish, but there is a bright white, too. There is a great selection of different units that fit together, and they also have fabric baskets that are the perfect complement to the wood laminate units.
I chose a 4 cube and a 2 door cabinet to start – I could put some of the fabric boxes on in the cubes, and hide the really special treasures behind the doors. But ClosetMaid also has a 2 cube unit, a drawer base cabinet, an open access unit where the front folds down, and a 3 shelf unit. All are interchangeable!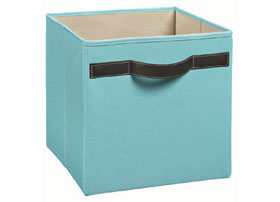 I also chose to fill my cubbies with fabric bins – 2 large and 2 medium. They are the same sized base (approx. 10" x 10"), but where the large are 10" high, the medium are half as tall. The bins are available in Robin's Egg Blue, Bronze, Clay Brick, and Warm Cocoa, and would look great with the light or dark wood finishes.
Assembly was really easy – the biggest problem I had was deciding where to put them. I thought they looked too good for my treasure collection and wanted to put them in my office.
I settled on using them for treasure storage for now, but who knows? They are really easy to move…