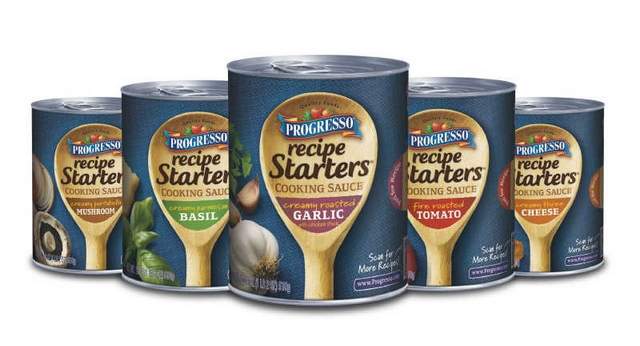 Progresso has recently come out with a new product to make meal time quicker. These Progresso Recipe Starters are gourmet sauces that make making dinner a breeze. These sauces are available in several flavors.
Fire Roasted Tomato – Fire roasted tomatoes, red bell peppers, and basil with a touch of cream.
Creamy Three Cheese – A blend of cheeses, including cheddar, parmesan, and cream cheese.
Creamy Roasted Garlic – Chicken stock that's been perfectly seasoned with garlic and cream.
Creamy Portabella Mushroom – A creamy sauce with a combination of tasty Portobello and porcini mushrooms
Creamy Parmesan Basil – Rich cream, parmesan, and basil.
Along with these Progresso Recipe Starters, there's also a huge selection of recipes on the Progresso website. Wouldn't your family be surprised — nay, SHOCKED — if they came home and you'd made Beef Stroganov or homemade Mac & Cheese? Well, now you can – quickly and easily!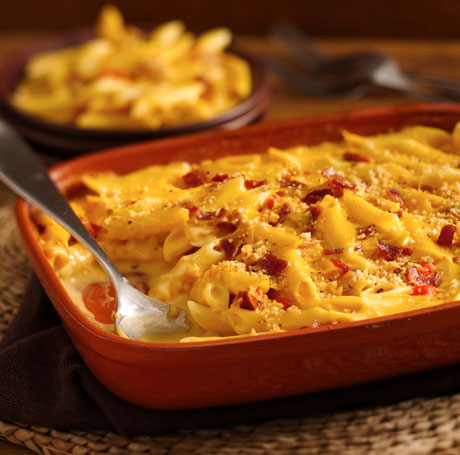 Easy Bacon Macaroni and Cheese Recipe
To make Bacon Mac N Cheese, you will need:
3 cups uncooked Penne pasta
1 can Creamy Three Cheese Progresso Recipe Starters cooking sauce
½ cup milk
1 cloves garlic, finely chopped
1 ½ cups Shredded Sharp Cheddar Cheese
2 oz american cheese, shredded
1 bag (2.5 oz) cooked real bacon pieces or bacon bits
½ cup diced red bell pepper
Italian style panko breadcrumbs
Instructions:
Heat over to 400 degrees F. Spray 2 quart casserole or baking dish (approx 13×9) with cooking spray.
Cook and drain pasta as directed on package.
While the pasta is cooking, start making the sauce. Combine the cooking sauce, milk, and garlic in a 3 quart saucepan. Bring to a boil, then remove from the heat and stir in the cheeses.
Add in the pasta, bacon, and bell pepper. Pour into the casserole dish.
Bake, uncovered, 20 minutes or until edges are bubbling. Sprinkle with breadcrumbs.
Recipe courtesy of Progresso.