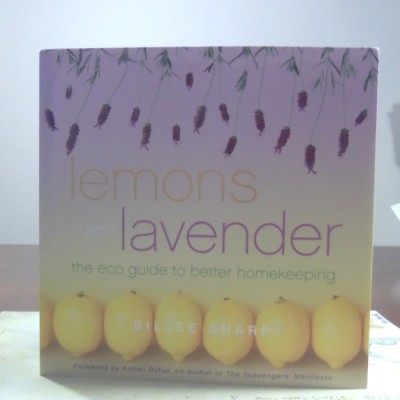 Billee Sharp could be my mother. Not in the literal sense, but I know her like my own mom.
Her sensibilities are back to the land, use it up, wear it out, granola eating, tree hugging, back to the simpler life.
That's how my own mother is, and how I grew up.
In her book,
Lemons and Lavender
, Billee tells us how to simplify our lives, attain our goals, and generally feel better about how we live in our space.
From changing our expectations for our children (giving extravagant gifts means that expectations are higher, and parents must work harder to meet those new expectations) to extreme budgeting (take a long hard look at where your money goes, and do you really need 20 magazine subscriptions in this digital age) to simple cures for common ailments (honey and cayenne to soothe a cough), Lemons and Lavender reminds me that life doesn't need to be so hard.
She has a keen view on what could be considered excessive consumption in our society, and how to determine what is really important in your life.
This book is not preachy, but written in a very straightforward, matter of fact style.
There is advice on everything from health and food to gardening and cooking.
And though Billee's book is about simplifying your life, she is not stuck in the 60's.
She includes links for places to legally download music or how to save a cell phone that has gotten wet, and what to do about that high cable bill that we all hate to pay.
This book is a keeper, for sure!
Lemons and Lavender
by Billie Sharp
Viva Press, $15.95
Available wherever books are sold.