Music is one of the defining factors in my life.  I use it to get pumpe up, I use it to mellow out.  I even use it as background noise when I go about my day.  Unfortunately, it's not always convenient to set my phone or MP3 Player somewhere because I can't hear it!  I am sure I'm not the only one with this issue.  That's where the Korus V400 Wireless Speaker would come in handy.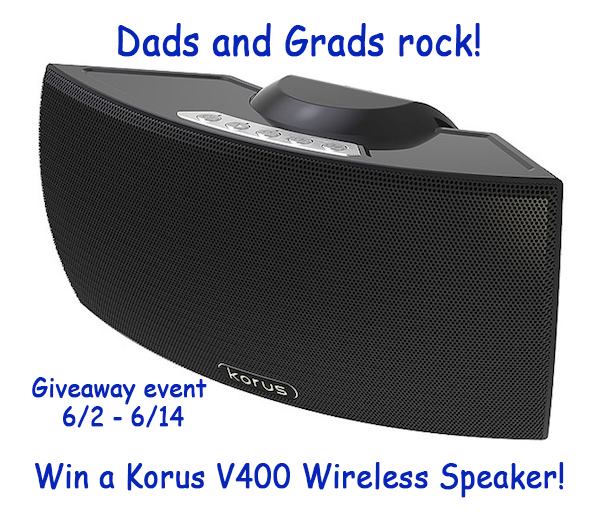 You just set it up with your device, and let it go! Instantly, there's music everywhere you need there to be.  It's not just for music, though.  Nope.  Use it to watch Youtube videos, where the sound may be low or uneven.  Use it to watch movies, especially on a trip, when you may need more sound than comes out of your tablet.
Technical aspects of the Korus V400 Speaker
– LiveStage™ Acoustic Signature
– Low distortion, deep bass response
– Integrated handle for easy portability
– Plug in anywhere
– 3.5mm audio-in port for a wired connection to your devices
– Wireless range up to 65 ft indoors1
– Frequency response: 125Hz – 20kHz
– Dimensions (length width height):


11in x 6in x 5.5in | 28cm x 16cm x 14cm

– Weight: 4.4lbs/2kg
Ready to win your own?  Do so in the Giveaway Tools widget below!