Are you ready for the MTV VMAs? It's basically Must See TV, because you never know what's gonna happen. Amazing performances, great collaborations, and all those unexpected, unscripted moments.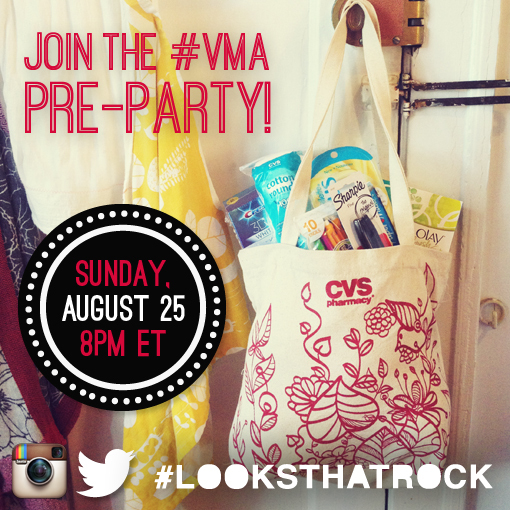 Well, we're pre-gaming with CVS and an awesome Twitter party. From now through Sunday, we're gonna be talking about the #LooksThatRock on both Twitter and Instagram. So, post your best selfies or your favorite looks and remember to add #LooksThatRock
Before the MTV VMAs start on Sunday, August 25th, we're taking the party to Twitter. An hour before the show starts (Twitter party starts at 8 pm EST/5 pm PST) join us on Twitter for fun and prizes. Topics will range from fashion and style to makeup to music and MTV.
Since the party is sponsored by CVS, you know there's some super awesome prizes, too. Three lucky winners will receive prize packages that include $250 CVS gift cards AND a collection of goodies from the CVS MTV VMA Campus Collection. You just need to sign up on the linky below and use the hash tag #LooksThatRock to be entered to win. Awesome, right?
RSVP using your Twitter handle below.