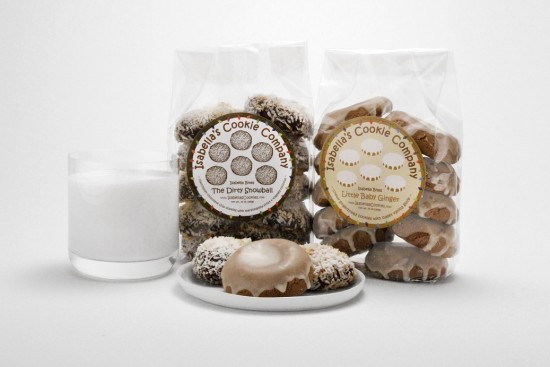 When I first went away to college, I used to get these awesome care packages in the mail. They were packed full of tasty treats, and the highlight of that week. Okay, I admit it – I didn't really go away to college, I went somewhere that was fairly close to home. But my grandfather didn't want me to miss out on that aspect of college life. He was the cook in the family and one of the things he loved to make was baked goods. Especially cookies.
Isabella's Cookies reminds me of those care packages. They're just good, old fashioned, home-baked style cookies made with real ingredients. Like real eggs, real sugar, and real butter. There weren't any ingredients that you don't know what they are. The one difference is that these are gourmet, made with premium ingredients.

For the holiday season, Isabella's Cookies has introduced a few special flavors. These include The Dirty Snowball and Little Baby Ginger.
The Dirty Snowball says it's a "Chocolatey chocolate chip cookie with marshmallow frost and toasted coconut ." The cookie was very chocolatey – almost brownie like, with small chocolate chunks inside. We didn't notice any marshmallow frosting of any kind. The cookies were rolled in what we determined to be a combination of toasted and regular coconut, being completely covered, top, bottom, and sides. The Dirty Snowball were like brownie cookies and are delicious!
Little Baby Ginger says they're "chewy gingerbread cookies with sweet vanilla glaze." And they are. Normally, I'm not a fan of gingerbread or gingerbread cookies. However, these Little Baby Ginger cookies were fantastic. They're soft and chewy, while the glaze is lightly sweet. They're full of molasses and ginger and other savory-sweet baking spices. Sweet and spicy, but not overpowering with either.
It's been many years since I've received a care package from my grandfather. But, if you're in the mood for some real old-fashioned style cookies with a totally modern twist, I would totally suggest checking out Isabella's Cookies.