This post brought to you by Moen, Incorporated. All opinions are 100% mine.
Decorating your home is such a personal thing. My personal aesthetic has long been Mid Century Modern. I'm sure that a big part of that has to do with the fact that my mom loves all things vintage. Well, not all things, but a large portion. We've always lived in older homes and had retro or vintage items in these homes.
That has just stayed with me. My first set of grown up furniture in my own home was a set of Danish Modern furniture from the 1960's. That's not to say that I don't enjoy some modern touches and amenities, though. Oh no.

I do enjoy modern touches, especially ones that make my life easier. Stainless steel, glass, and even glossy tile are improvements over many of the untouched vintage kitchens. Moen's new Kiran Spot Resist one-handle pulldown kitchen faucet, is one such piece that would fit right into my kitchen. While it's sleek and modern, it's not so modern that it would be out of place among the collection of FiestaWare or the ridiculous salt and pepper shaker collection.
Why would I choose the Kiran? Several reasons.
Spot & Fingerprint Resistant. I mean, I don't know about you, but I have better things to do with my time than wipe the faucet fixtures down constantly.
High Arch Design. This makes it so much easier to get your pots, pans, and pitchers under the spout.
Reflex System. The spout is not only higher, but it pulls out! Even better? It retracts and goes back to where it was, quickly and easily without having to finagle it.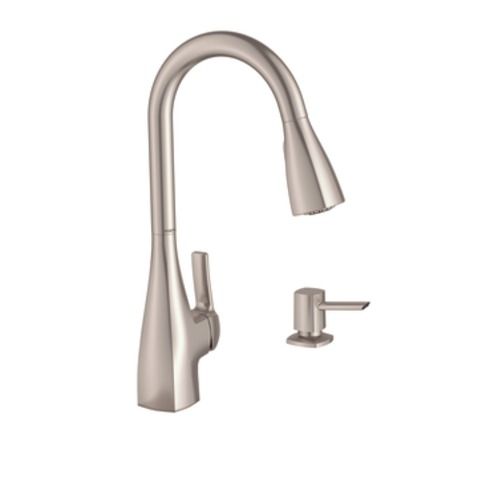 Wouldn't the Moen Kiran go great in your kitchen? You can pick up Moen products at fine stores like Lowes. You can connect with Moen on Facebook and Twitter, too.