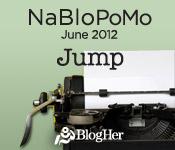 What would I jump into if I had more time and money? Woowww…the list is incredibly long, where do I even start?
Well, I'd definitely travel more. That's a bit of a cop-out, but I like to take long trips – 2-3 weeks or so and really explore wherever I am. I like to hit up the out of the way spots that the locals go to. I like to dig deep in the stores. And of course, I have to go to all of the tourist traps. Tourist traps are one of my greatest joys in life!
Next, I'd do more decorating at home. Not just decorating, but like, rehabbing furniture and stuff. I've done some of that, but I've always wanted to do more. The biggest problem is that I'm chea…errr frugal. Especially when it comes to buying something like furniture that I'm going to have to invest blood, sweat, and tears in. And, oh yes. There will be blood.
I'd also like to get a dog and have it be really well behaved. I want a dog that won't run away when it goes off-leash or try to dig out of the backyard. Little do they know how good they really have it living with me. Not everyone will let you come inside and watch tv, dog. I know that will take quite a bit of obedience training. For both of us.
That's what I'd do with extra money and time. How about you?