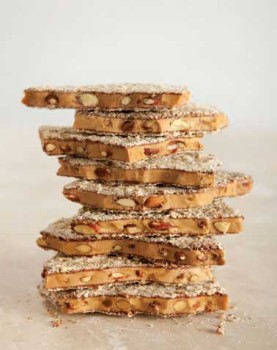 I love candy and sweets. If they ever decided to outlaw sugar, I would be in serious trouble. I would totally become one of those people, hanging out in the sugar den, looking for my fix. I'm not indiscriminate in my love of sugar though. I like really good baked goods and quality candies.
When I received a box from Enstrom's Candies this week, I suspected I was in for quite a treat. And I was sooo right! It took every ounce of my self control not to rip into the box in the car. Somehow, I managed to control myself until I was able to get home. That was like an hour, so you know how difficult that had to be!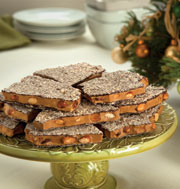 Once I got home, you can be dang sure that I ripped into the box! It was a box of their World Famous Milk Chocolate Almond Toffee!! This box was jam-packed full. Overflowing a little, even. The milk chocolate had melted a bit from being in the car, but that didn't stop me. The Enstrom's toffee was very rich. I could tell it was made from real sugar and butter, as well as premium quality almonds. The chocolate was very good quality, too. There was enough chocolate to compliment the toffee, but not so much that it overwhelmed the flavor.
Can we talk about the size of the slabs of toffee for a minute? There's no skinny Minnie pieces here that look more like crumbs or dust. Oh no. These slabs are at least half an inch thick and about 4 or 5 inches in length. They're HUGE!! They also have whole almonds in them instead of slivers. Whole nuts are a much more expensive ingredient.
Enstrom's Candies would make a great gift for anyone in your life. Especially that hard to shop for dad!