Special thanks to Hickory Farms for sponsoring this conversation.
I may have mentioned a time or two that I am a sucker for a gift basket. I love to dig through there and see what treasures await me. And when you find that one thing that's fallen beneath the excelsior and basket filler, it's like you've discovered a gold nugget!
The thing about gift baskets, though, is they can be kind of overwhelming when trying to decide on one. Do I pick the cheese lovers or the sausage lovers? Maybe do one with some mustards or spreads…What the heck is the difference between these two identical looking baskets?!?!
Trust me – we've all been there. Here are a few gift baskets that everyone would love to receive. All baskets shown are from Hickory Farms.
Gift Basket Ideas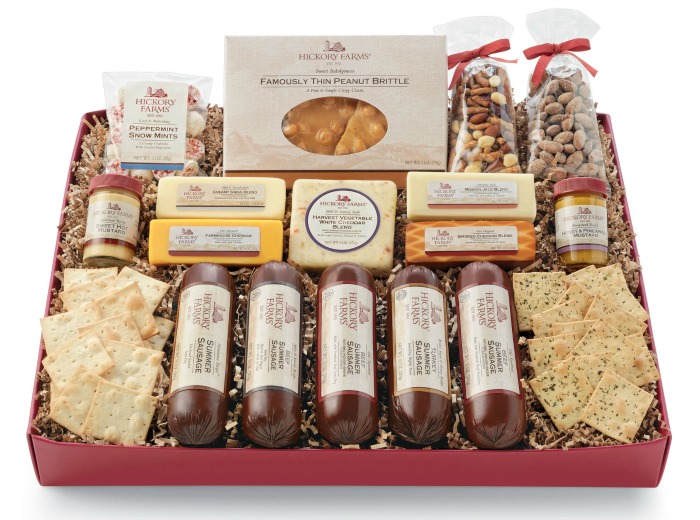 All Day Celebration Gift Box
The All Day Celebration gift box has something for everyone. Loaded with 5 summer sausages, 5 cheeses, crackers, two different mustards, and a variety of candies and nuts. This is the kind of box that you put out as a spread at a get-together, and everyone snacks on all day.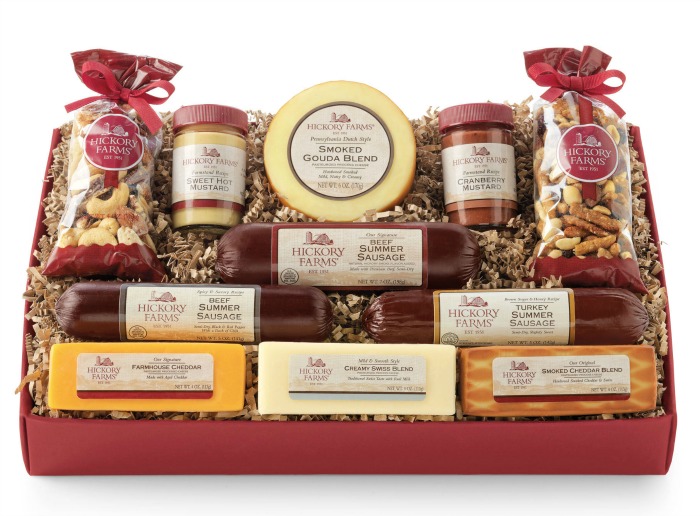 Signature Party Planner
The Signature Party Planner is similar to the All Day Celebration Box, but is a little more subtle. Containing three different summer sausages and four cheeses, there's something for everyone. Factor in the mixed nuts and the mustards, and you're good to go. Just add a box of crackers when you're serving it. $5 of the purchase price goes to No Kid Hungry, which is a great hunger relief organization.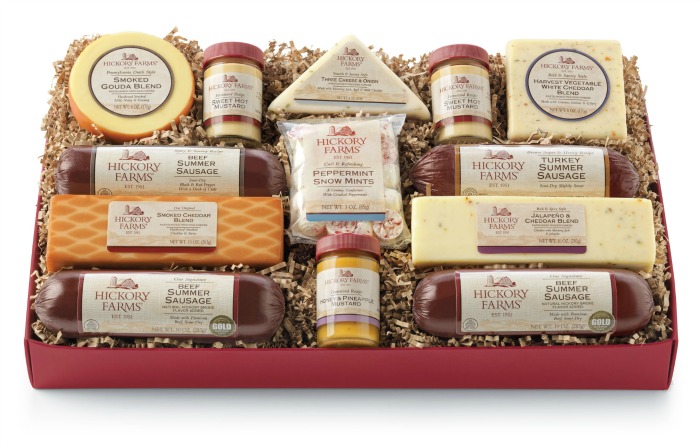 Deluxe Smokehouse Collection Gift Box
This one gets down to the meat and potatoes of Hickory Farms' offerings. Errr…meat and cheese of their offerings, rather. The Deluxe Smokehouse Collection has just the things that matter – 4 summer sausages and 4 cheeses. Add in the Sweet Hot Mustard and the Pineapple & Honey Mustard, and you have a real winner. If anyone needs my address to send me this, ummm…let me know. Ok?
Perfect Picnic Gift Basket
This Perfect Picnic gift basket is not only loaded with great Hickory Farms treats like summer sausages, cheeses, candies, and mustards. Nope. There's also mixed nuts, shortbread, chocolate covered nuts, and Belgian truffles. YUM!! Even better, the recipient is left with a pretty awesome picnic basket. The picnic basket isn't just a great size, it has a zippered, insulated liner and a padded handle.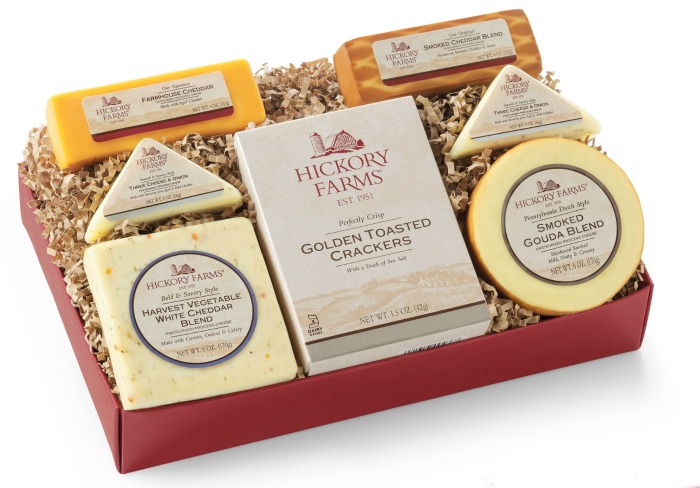 Hickory Farms Festive Cheese Sampler
I love cheese. There, I said it. While it's not anything to be ashamed about, our love can be a little intense. This Festive Cheese Sampler box is loaded with 5 different types of cheese, and a box of crackers. Y'know, so you can eat them right away. With three different cheddars, a Gouda, and two of the Three Cheese and Onion, the cheese lovers in your life will be thrilled.
Hopefully these suggested Hickory Farms gift baskets will help you navigate the wild world of gift basket giving.