We're always working out, toning the muscles of our body. Arms, legs, abs, derriere. Why is it that we don't tone the muscles of our face? It's well-known that by toning muscles you can help firm your skin, look younger, feel better, and burn more calories.
There are 19 main muscles in your face. Don't you think that if you spent some time toning these, you would look younger? You could eliminate wrinkles and sagging, as well as have a smoother, firmer, appearance.
Facial Magic
is here to help you accomplish this!
Facial Magic is an isometric toning program. What's that mean? It's basically like resistance training for your face. Pretty cool, huh? It's a 9 week program that progresses as you get used to it. You learn 18 different exercises that target 15 different areas of the face and neck.
The best part – Facial Magic is an all natural program. In just a few minutes a day, you can work your way to a firmer appearance. It's been featured on all kinds of TV shows and in the media.
But how does it work?
Facial Magic consists of a manual, a DVD, a CD, cotton gloves, and 2 jars of the DailyLift facial mask. There are deluxe kits that include your skincare regimen, too.
I have to admit –When I first started the program, I felt really silly doing these facial exercises. Like maybe someone was pulling a prank on me. Here I am, wearing white cotton gloves, playing with my cheeks. If I were to hide a camera, where would I hide it? Haha.
But after a few days, I started to see some results. It may have just been psychological at that point, but I felt good. About two weeks in, others started commenting about my face and skin. They were saying nice things, of course, not like "What happened to your face?"
Now that I'm halfway through the initial regimen, I have to say – Facial Magic is really making a difference. Of course, there are other factors that go in to having great skin. Diet plays a big part, as does the amount of rest you get. You want to eat your fruits and veggies and drink your 8 glasses of water a day. A good skincare regimen is also important.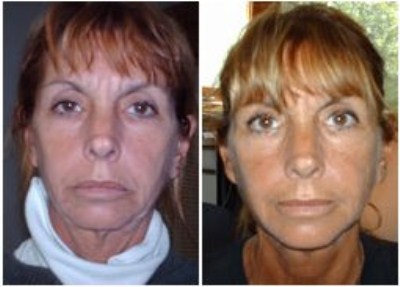 Before and after using Facial Magic
Facial Magic says you can achieve long lasting results by continuing the regimen. I'd much rather devote a few minutes a day to toning exercises than Botox and facelifts.