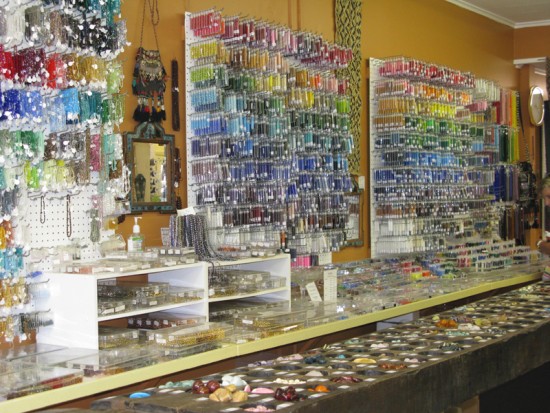 I've been preparing to do my Holiday Gift Guide here on How Was Your Day? One of the sections is a DIY Christmas Guide. Making ornaments, decorations, a few handmade gifts, things like that. So, I've been going around town, picking items up as I needed them or found them. I knew I needed some items from my local bead store, so I planned a trip for after work one day.
I arrived, and had just missed them by about 10 minutes. As I peered in the windows, I noticed a change. I was like "There's something that feels different. Like there's less stuff in there." When I was running errands on Saturday, I decided to stop in the bead store again.

As I walked in, I was greeted with the news that they were closing and everything was marked down. It was only as I was purchasing my treasures that I discovered they were closing in about 2 ½ hours. How could that be? I was just in a few weeks prior for the open house and they hadn't even mentioned anything!
Unfortunately, this isn't a seldom occurrence. Nor is it something that's exclusive to me or my town. Small, locally owned stores closing their doors is happening all across the country.
Imagine how your town would look without small businesses. There would be no craft stores, except the chains. That means you couldn't get a couple of beads or a single sheet of paper for your project. Couldn't get a fat quarter of fabric for a sewing project. The inability to get luscious yarn. And have you ever tried to get help for your project in one of the chain stores? Fuhgeddaboutit.
How about getting a treat at the bakery? Denied! Need an ingredient from the specialty foods store? Uh uh, nope. We couldn't even have a chance to get a good loaf of bread or grass-raised meat.
Have you tried finding something in a hardware store recently? A lot of them feel they can't compete with the big box stores, yet the big box stores don't have the items you're looking for either. I needed some wooden curtain rods for a project at work. It took me trips to 8 stores before I finally found them. Know where I found them? At the oldest hardware store in town.
Other small businesses that most people don't think about – Mortuaries, auto shops, HVAC repairmen, plumbers, restaurants, independent grocery stores, hair salons, and the like.
What's your favorite small business in your town?
I wrote this review while participating in a blog tour for Mom Central Consulting on behalf of American Express. I received a promotional item to thank me for taking the time to participate.