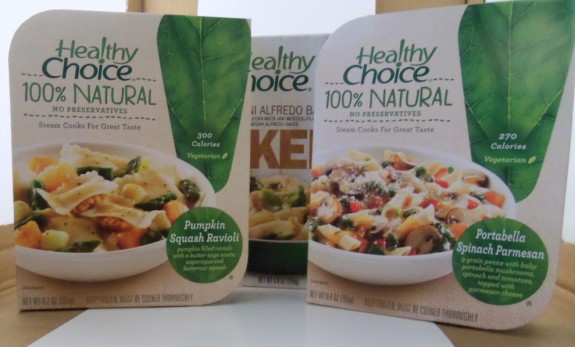 All the single ladies…all the single ladies. All the single ladies…eat frozen meals. Is that a Beyonce roll, rather than a Rick-roll? Anyway…Now that I have successfully gotten that song stuck in your head, let's talk about dinner. Or lunch, as the case may be.
As a very busy single lady, sometimes I eat frozen meals. While I don't mind cooking, and often do, there are times that when I get home from work that the last thing I want to do is get out pots and pans to make a meal for just me. But I'm not in the mood to have a sandwich, bowl of cereal, or leftovers. Enter the savior of dinnertime – Healthy Choice and Marie Callender's frozen meals.
How do I love about these frozen meals? Let me count the ways.

I am not really a fan of leftovers. Sad to say, but it's true. So, suggestions to make 3 or 4 days worth of food at once doesn't really appeal to me.
Variety is the spice of life. I can choose lots of different options, and just go get a meal out of my freezer. Easy peasy.
Fresh ingredients. Frozen meals from Healthy Choice and Marie Callender's are made with fresh ingredients. No soggy, sad, limp veggies and overly starchy pasta that's been sitting around forever.
They actually taste good. I know, this is a little bit of a shocker, but it's true! Healthy Choice has a new vegetarian Portobella Marsala meal that is, like, really really good. I am a Marsala lover, and have never found a frozen meal that's up to my standards.
Gone are the days when a frozen meal meant you had to choose between Salisbury Steak, soggy Fried Chicken, and Lasagne. Now, you can have Chicken Margherita with Balsamic or Grilled Chicken Pesto, traditional Turkey & Dressing, or even Orange Chicken.
Even now, if you want a vegetarian frozen meal, there aren't a ton of choices, and most of those are pasta with a red sauce. Can we please have any other option? There are tons of awesome selections like Pumpkin Squash Ravioli, Portabella Spinach Parmesan, and Teriyaki Stir Fry. I seriously went crazy in the frozen foods aisle, grabbing all of these selections like I was on Supermarket Sweep.
Now. I'm totally stocked up for a while on good for me, easy & quick to fix meals that are tasty!
ConAgra Foods frozen meals give families access to real ingredients like crunchy, freshly cut vegetables, homemade pasta and ripe fruit year-round. Just like most people blanch veggies before freezing them – ConAgra Foods does too – to help preserve color, texture and keep them fresh!

Give it a try sometime! Marie Callender's hearty pot pies are filled with tender meat, freshly cut vegetables and Marie's authentic golden, flaky crust. And Healthy Choice recipes use chef-inspired ingredients like, apples instead of sugar for tart sweetness and a splash of red wine for a punch of flavor instead of added salt.

This is a sponsored post written by me on behalf of ConAgra Foods.