I am a huge fan of junk food. I always joke that I could live on appetizers and snacks and be perfectly happy. Of course, that's probably not the best thing for me, so I try to look for healthier options. Green Giant, the vegetable company we all know and love, has introduced a line of Veggie Chips.
Surprise!
I had no idea that Green Giant was entering the snack foods competition, nor did I know they had a talent for making treats like this. Could Green Giant's new Veggie Chips be one of those healthier alternatives I'm looking for? Let's find out!

The Green Giant Veggie Chips come in three varieties: Multigrain Sweet Potato, Multigrain Sweet Potato with Sea Salt, and Roasted Veggie Tortilla Chips in Zesty Cheddar.
The Green Giant™ Roasted Veggie Tortilla Chips – Zesty Cheddar Flavor are made with real vegetables, 17 grams of whole grain per serving (48g are recommended daily), and are naturally flavored.
The Green Giant™ Multigrain Sweet Potato Chips – Sea Salt Flavor are made with real sweet potatoes and made with 14 grams of whole grain. Plus, they contains 40 percent less fat than regular potato chips!
*Green Giant Multigrain Sweet Potato Chips (6g per 28g serving) have 40 percent less fat than regular potato chips (10g per 28g serving)
I was glad to see that, nutritionally, these were better for me. But how's the taste?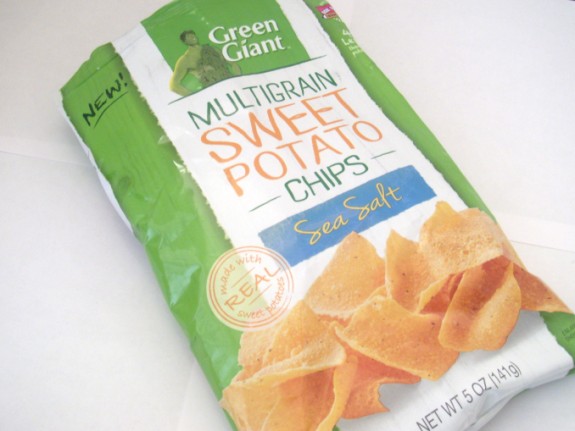 As soon as I saw the Sweet Potato with Sea Salt, I ripped the bag open, because that's how I roll. I popped one into my mouth, looked at my mom, and said "Oh. I so shouldn't have opened these!" They were soooo good! Of course, I am a huge fan of sweet potatoes and salt, so it was like these were made for me. I probably would have even liked a little more salt, but I am a salt addict.
Somehow, I had missed that these were multigrain chips, and was expecting them to be vegetable chips. The Multigrain Sweet Potato Chips are a lot thinner than other multi-grain chips that are on the market. They have more of a cornflake texture and lightness than a chunk of wavy stuff.
The Roasted Veggie Tortilla Chips in Zesty Cheddar are good, too. They taste very similar to a regular tortilla chip, but the texture is different. These are lighter, with a more pleasant mouth feel. The Green Giant veggie chips are more like the texture of good, fresh restaurant chips.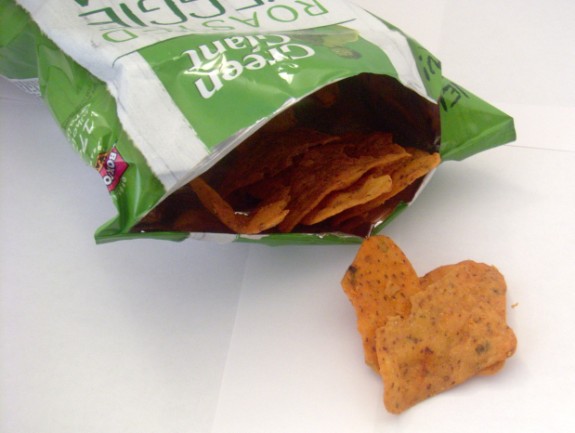 The zesty cheddar flavoring is good. Kinda nacho-y. I was concerned that they would be spicy, but they're not. It seems that these chips have a bit of a smoky pepper aftertaste. They didn't leave the fake orange coating all over my hands, either, which is always a plus.
The verdict:
Will I eat Green Giant Veggie Chips? Yes. Will I seek them out? Probably. What would I change? I would bring out a plain or just a sea salt version of the Roasted Veggie Tortilla chips. I think they'd be great with salsa and/or guacamole.
Ready to try them for yourself? Green Giant has an $0.85 coupon for the Veggie Chips that you can print here. Do you have a surprise talent? Can you sing? How about dance? Maybe you can make an awesome fishy face? Whatever it is, Green Giant wants to know about your surprise talent. You can share it on their Facebook page. You can also see other awesome hidden talents in this Youtube video.

Thank you to The Green Giant™ for being a sponsor. Show the Giant your surprise talent at www.facebook.com/greengiant