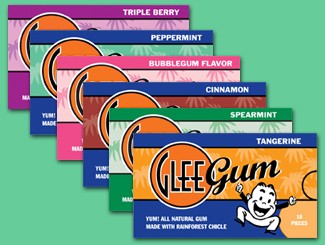 I'm not a huge gum-chewer. Sometimes, though, I just get the craving for gum. When I was a kid, I would go for the big, pink globs that are artificially colored and flavored and contain who-knows-what.
Nowadays, there are natural options for chewing gum. Glee Gum is one of these options. Glee Gum is 100% natural, with ingredients including cane sugar, chicle, rice syrup, and vegetable based colors! How fantastic is that?
I know you're saying "Well, that's good and all, but how does it taste?"
It tastes pretty good! The natural flavors make the gum taste, well, natural. The gum has the same flavors as the flavors that you're expecting from the names. Glee Gum comes in tablet form, rather than the ultra soft gum many have come to expect. It's still very soft and easy to chew, though. Not hard at all.
Glee Gum is available in fun flavors including Triple Berry, Bubblegum, Tangerine, Cinnamon, Peppermint, and Spearmint. They also have two sugar free options: Lemon-Lime and Refresh-Mint.
In case you're anything like me, here's another fun thing, too. I've always enjoyed seeing how things are made. Well, Glee Gum has this fun interactive info-graphic on their site that shows you how their gum is made, from harvest to store shelves. WHOA!
Glee Gum comes in several sized packs, too. You can buy the cute 4-packs, standard boxes, which have 18 pieces, and, if you're really an addict – in bulk!