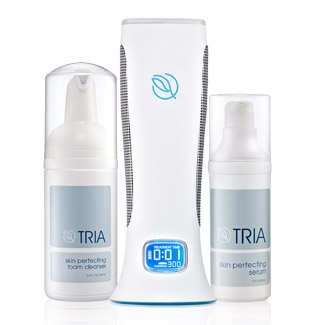 Have you heard of the TRIA skin perfecting blue light acne treatment? It's a handy-dandy handheld device that helps to eliminate acne causing bacteria deep beneath the skin. This device has the same type of blue light therapy that has been used in dermatologists offices since 2002.
What about the light? Isn't UV light bad for you? That's a great question! The blue light is non-UV and has been cleared by the FDA. What does that mean for you and me? That means that the FDA has ruled Tria to be safe. That Tria has had significant studies to prove that their blue light therapy is safe to use, and that it's effective. Good to know, right?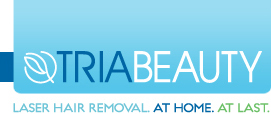 TRIA's Skin Perfecting Blue Light is an innovative acne treatment for home use. It seems really easy to use. You charge the unit, insert the cartridge, and glide the blue light over your clean skin. It takes just 2 ½ minutes twice a day.
I've always been pretty lucky in the fact that my skin is pretty clear. While serious acne has never been an issue for me, I am prone to occasional breakouts. I have two triggers for these – stress and hormones. My breakouts aren't all over, either. I get a couple of big, giant whoppers of pimples. I've tried several acne treatments over the years, but since I have sensitive skin, many times they just exacerbate the issue. I'd much rather have a pimple than a big swath of irritated skin from the treatment.
As far as my skin care routine goes, I wash my face with a cream cleanser and moisturize it. When I remember to. Shhh,,,that'll be our little secret, ok?
I'm excited to give the Tria Blue Light treatment a whirl. Due to my skin issues, I see a dermatologist semi-regularly. Mostly just to get my scripts filled these days, as we've found a good combination that works for me to keep my clear complexion. I'd like to be able to eliminate the occasional flare-ups, or at least make them go away quicker.
I'll be testing the system out for 4 weeks and giving an update after the trial period is up. I'm really curious to see how well it works!
I wrote this review while participating in a campaign by Mom Central Consulting on behalf of Tria and received a Tria Skin Perfecting Blue Light product sample to facilitate my review. MCC