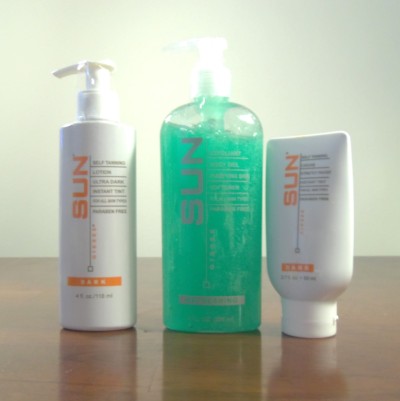 I'm a pale person. No matter how much I fight it, want to deny it, or try to hide it, it's a fact of life. Gingers usually have that problem, with their milky white skin and freckles. Occasionally, it's even infuriating. People always saying "you should get some sun!" or "Try going outside more often!" It's not until you show them your tan lines that they realize the off-white shade of your skin is tan.
We're usually relegated to turning to sunless tanners and spray tans. Those have come a long way in recent years, but sometimes they're hit and miss. Recently, I've been taking the Sun System from Giesee for a test run.

I received a full setup – Exfoliating body wash, self tanning lotion for the body, self tanning lotion for the face, and a mitt. I was a touch concerned when I opened the package and saw that the lotions were labeled "Dark." I went ahead and decided to give it a go anyway. I chose a patch on my arm to test it out. I was really pleasantly surprised by the completely natural look. It didn't look artificial or off at all. Of course, now I had one patch that was really tan and the rest was still pretty pale – like when you swatch paint. Hmmm…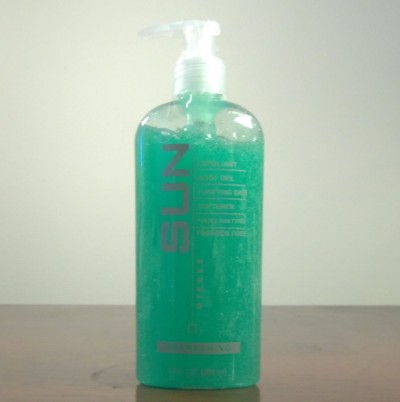 Before applying the self tanner to the rest of me, I wanted to use the exfoliating shower gel. It was rather pleasant, with gentle little beads, instead of a scratchy ingredient. I found that it prepared my skin nicely for the self tanner. When I applied the self tanning lotion to my entire arms, I loved that it allowed my natural freckles to show through. And as it set, a darker color began to develop.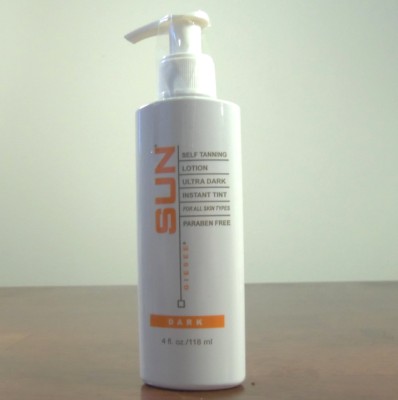 The facial lotion acted pretty much the same way. A gentle, natural looking tan developed, but still allowed my natural skin to show through. I still look like me, only tan! If you want to see the difference, check this out – I put a bandage on my arm before applying the tanning lotion. Whoa!
And even better, after a day or two, my tan started to fade. Just like a real tan does. This self tanning lotion from Sun Labs does have a bit of a scent to it, but it's not at all unpleasant or chemically. It smells a bit fruity. It's also paraben free. If you want to know the importance of parabens, look it up. Somewhat scary stuff there. And, as an added, added bonus, it's made in the USA. California to be exact.
I'm now a bronze goddess, all thanks to Giesee Sun.