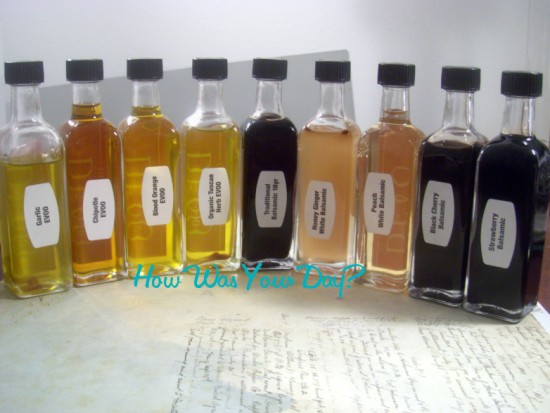 One of the things that just about any chef worth their salt has in their cabinet is good quality Extra Virgin Olive Oil (EVOO) and a quality balsamic vinegar.
Devo Olive Oil takes their selections beyond the basics. With more than 20 flavors each of EVOO and Balsamic Vinegars, there's bound to be something for everyone. Because of the daunting selection available, Devo does a lot of different things. They have an extensive selection of already matched oils and vinegars. One such pairing is their "Peachy Keen" which is Georgia Peach White Balsamic and Organic Persian Lime EVOO.
One of the other things that Devo Olive Oil does so well is that they create samplers of their oils and vinegars. For the price of a full sized bottle or two, you can sample 4, 6, or 9 different flavors. They even have a huge 16 piece sampler pack!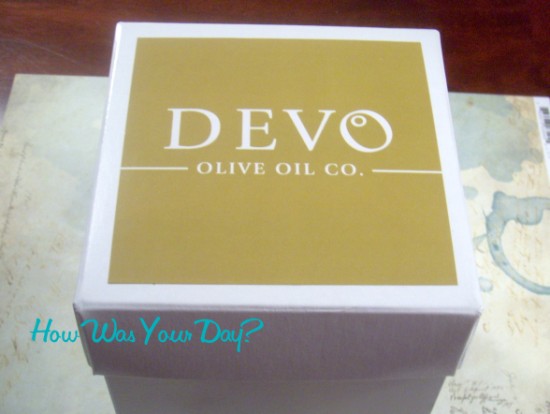 The samplers come nicely packaged in a great box that's jam-packed full of small bottles of tasty goodness!
The folks at Devo were generous enough to send me a 9 piece sampler pack, which contained:
Blood Orange EVOO – This has a subtle citrusy-orange flavor that's not overwhelming.
Chipotle EVOO – Smoky Chipotle flavor with a gentle warm burn
Organic Tuscan Herb EVOO – A delicious blend of herbs, sundried tomatoes and garlic.
Garlic EVOO – Very versatile with the subtly sweet taste of roasted garlic.
Georgia Peach White Balsamic – This has a strong, sweet peach flavor.
Honey Ginger White Balsamic – Has a subtle sweet-spicy flavor. Spicy from the ginger and sweet from the honey. A great start to a honey mustard flavor.
Traditional 18 Yr Balsamic – Aged in oak barrels for 18 years, this is the perfect blend of sweet and tart. Fabulous for salads.
Strawberry Balsamic – A touch of strawberry blended with a 12 year aged traditional balsamic vinegar. Perfect for salads and fruit.
Black Cherry Balsamic – Black Cherry is combined with aged traditional balsamic vinegar. Has a deeper, richer flavor than the Strawberry flavor.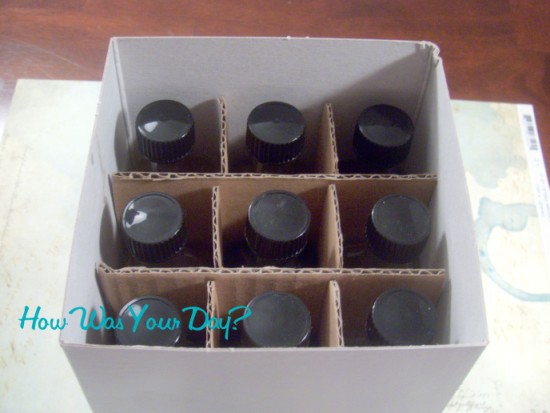 We have been mixing and matching flavors to our heart's content over here. A few of our favorites have been
Garlic EVOO and Traditional 18 Year Balsamic – This is a pretty conventional combo, though. We're so adventurous!
Garlic EVOO and Black Cherry Balsamic – I had this with hummus and pita and it was sooo good. A little rich tart sweetness, some extra garlic goodness, and I added a sprinkling of sel gris salt.
Organic Tuscan Herb and Honey Ginger White Balsamic – I'm having this on a salad as I write this. The herbal essences from the Tuscan oil meld well with the spicy-sweet balsamic.
And we just keep on experimenting! Whether you're looking to add some exotic flavors of oil and vinegar to your cabinets, or just looking for a great quality basic Balsamic vinegar and EVOO, consider Devo Olive Oil.
You can connect with Devo Olive Oil on Twitter, Facebook, and Pinterest. You can also pop into one of their retail locations in Branson, MO or Myrtle Beach, SC.