The following post is slightly pg-13.  If you're offended, just skip it!
Have you heard of
Eden Fantasys
?  I have to admit, I was not familiar with the company until I heard about them from one of my bloggy friends.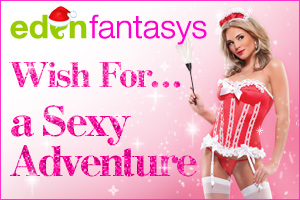 The first time I had a look at the Eden Fantasys site, I was intriqued by all the different styles of
sexy costumes
they carried.  It happened to be the beginning of October and I was planning for Halloween.  I had a couple of ideas in mind, so I went to have a look-see.  There were ideas that hadn't even crossed my mind!  They had several versions of the sexy nurse and schoolgirl, of course.  But they also had a naughty nun, mobster mol, and a slutty race car driver!  Ooh la la!
Now, some of the costumes are much better for staying rather than going out, if ya know what I mean.  Next time I'm looking for a costume for a party or for play, I'm checking out Eden Fantasys!
This was a sponsored post for Eden Fantasys as part of their Ambassador program.