While our family wasn't particularly religious, we did often do something or go somewhere for Easter. We always got a new outfit, that was pretty nice, and would head out to dinner usually. This small capsule wardrobe has a great outfit for each member of the family.
The pieces all come from Old Navy, so you know what that means. Affordable clothes that are pretty durable, and stylish.  Total win!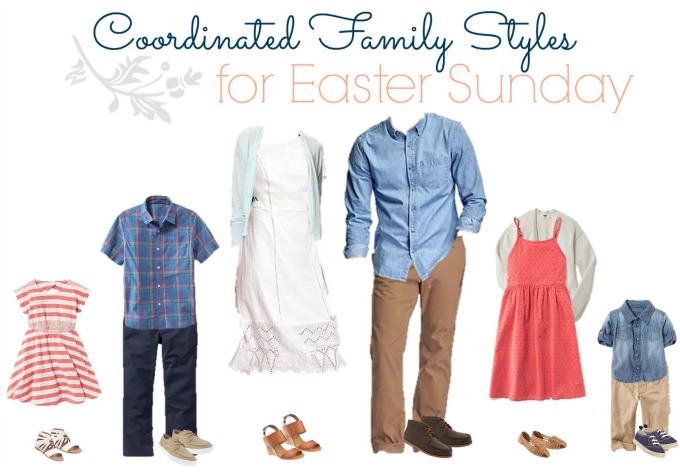 Dress the Whole Family for Easter
Links may be affiliate links.
Mom
Eyelet Midi Dress ($50) – How cute is this dress?  It's one of those pieces that you'll reach for again and again!  Also available in a coral-red shade.
Relaxed Hi-lo Cardigan ($23) – Another piece that's a fab wardrobe staple. Available in 6 colors, shown here in Ice Queen.
Faux Leather Wedges ($40) – Wedges are hot for spring and summer. It's a trend that just keeps going! These are available in Cognac and Black.
Dad
Chambray Slim Fit shirt ($35) – Dad likes to be comfy, we all know that.  This shirt is as comfortable as his favorite jeans, yet a whole lot more stylish.
Straight Leg Khakis ($30) – Another great choice for both comfort and style. Dad will always look good with khakis on.
Men's Faux Leather Boots ($30) – The classic chukka boot never really goes out of style.  It can be dressed up or dressed down. This is a pair he'll reach for again and again.
Daughter
Old Navy's kids clothes are a great choice, because they come in such a wide size range. These items are all available in sizes 5-14.
Swiss Dot Cami Dress in Apple Guava ($23) – This dress is so adorable for spring and right on into summer.  Pair it with a cardigan and some leggings for the colder months, and wear it as is, or with a tee shirt for the summer. Also available in White
Open Front Cardigan for Girls ($25) – The perfect wardrobe staple that will be able to be worn again and again. This comes in four fabulous colors.
Faux Leather Hurraches ($20) – Hurrache sandals were one of the mainstays of my youth.  They go with so many things, and can be worn with a dress or skirt to dinner or church, or with shorts on the playground. They usually are a-ok for school, as well.
Toddler Daughter
Fit and Flare Dress for Baby ($17) – AHHHH!!  I LOVE this dress!  So adorable, and you know it's going to be really comfy, too.  It does have an open back, so you may want to pair it with a sweater.  Also available in a navy/white stripe.
Butterfly Cut Out Sandals ($17) – These kind of sort of have a butterfly cutout, but it's not screaming like "HEY!  I'm a butterfly, yo!" There's a back zipper, too, for ease of on and off.  I do believe putting shoes on kids is like an endurance test on its own. Also available in silver and pink.
Young Son
Plaid Short Sleeve Shirt in Blue Heron ($17) – This is a good addition to his closet for any time he needs to have something nicer than a tee shirt. Get double duty by pairing it with a tee for kids or family parties. Available in 7 colors!
Plain Front Skinny Uniform Khakis in Navy ($15) – Just like dad, he'll look so sharp in his khakis.  Plus, they're more comfy than suit pants – and more durable, too! Available in 4 great colors.
Canvas Boat Shoes ($23) – A great option for something that's not a sneaker. Since they're canvas, they can be tossed into the washer as well.
Toddler Son
Yep, we did it.  We dressed the baby just like his daddy! It's super comfy for him, and totally washable.
Chambray Shirt ($17) – I think I died a little when I saw this!  In the totally good way, of course. I just…I can't even.  I need a baby to dress.
Skinny Khakis for Baby ($15) – WHAT?!?!  I'm just dead.
Canvas Pull on Sneakers for Baby ($13) – So adorable.  And you know he'll get so much use out of these cute little shoes.
What's your favorite piece from this Old Navy Capsule collection?
For more Easter style posts, visit a few of my favorite bloggers: