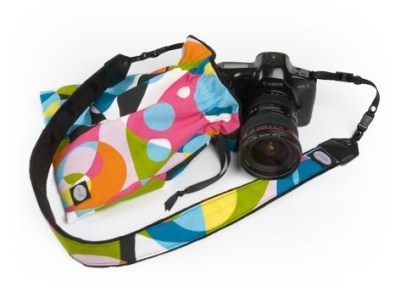 As an active blogger, I take my camera with me everywhere. And I mean everywhere. You never know when you're going to come across something either really wonderful, like newborn colts, or really bizarre. Sometimes, you even have to photo blog doing something for sponsors.
When your camera becomes another accessory, you want it to look good.
Mod Straps
makes really fun camera accessories like camera straps and bags. Whether you have a fancy DSLR that you use for photo shoots or a compact point and shoot that you bring along, you can really express your personality.
Mod recently sent me a camera strap and bag for my point and shoot camera. They sent me a compact camera pouch and strap in Crimson Victorian. I had recently purchased a new camera that was supposed to be red, so this was perfect!

The fabric is a rich taffeta flocked with Florentine designs in black. The pouch was lined in super-soft black minky fabric, as well. The lining does two things. First, it creates a soft layer against your camera, so that it doesn't get scratched up and damaged. Second, it creates padding around the camera for added cushioning.
The strap was sewn very well, as was the pouch. Very well. Straight seams, finished edges, etc. The pouch had a grosgrain ribbon drawstring and a fantastic woven branding label that isn't obnoxious. The only thing that I thought was weird was that part of the pouch was top-stitched with white thread. Especially on a dark red and black item. Most people probably wouldn't even notice.
You can buy Mod Straps in local stores all over the world or direct from their site. Connect with them on
Facebook
and
Twitter,
too.