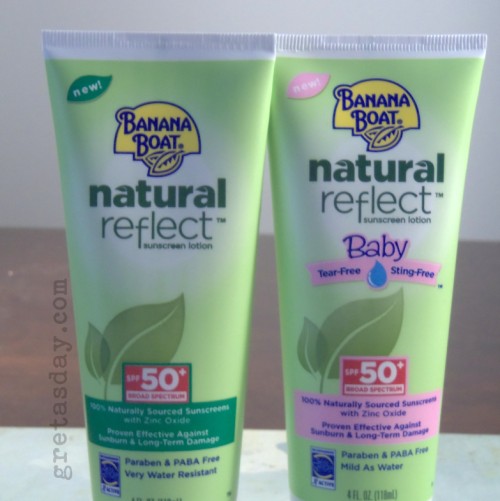 We all know how important it is to protect our skin from the sun's damaging rays. Banana Boat Natural Reflect sunscreen can help you to do just that. Made with natural ingredients, Natural Reflect is better for you and your skin than traditional sunscreens.
Banana Boat knows that playing outdoors is one of the greatest joys in life. That's why they're challenging parents to take the 101 Days of Summer Play pledge. It's really simple – parents can head on over to the Banana Boat Facebook page, and once they're there, pledge to encourage your kids to play outside every day. This lasts for the 101 days of unofficial summer – from Memorial Day through Labor Day.
Banana Boat will have great ideas for outdoor play with your kids. As we all know, just pushing them outside and locking the door behind them doesn't always work. Sometimes they just stand by the door and want back in!!
As if all that wasn't enough, for each person that takes the 101 Days of Summer Play pledge, one bottle of Natural Reflect Sunscreen Lotion will be donated to The Hole in the Wall Gang Camp. The Hole in the Wall Gang Camp is a camp for children, and their families, who are dealing with serious illnesses.
Banana Boat is also awarding weekly prizes to those who enter the 101 Days of Summer Play contests on their Facebook page. They're also giving away a grand prize of an all expenses-paid trip to one of America's premier national parks! I wonder which one it is!!
Banana Boat Natural Reflect Lotion is available in three different varieties. They have a Natural Reflect Sunscreen Lotion for adults, one for kids, and one that's formulated for babies. All are SPF 50+. It's also easily found at mass retailers, grocery stores, and drug stores. That's great news, because, as we all know, sometimes it can be so difficult to find better for us products.
Go do something good for you, your kids, and The Hole in the Wall Gang kids and take the 101 Days of Summer Play pledge.