Do you like candles? I like candles for the warmth that they bring to a home. I also love the way candles can change the mood in a room so quickly and easily.
One of the ways that I like to decorate my home is the transition from summer into the cooler months. I put away the beachy smelling candles and get out the fall candles. Some are scented with warm scents like Pumpkin, spice, and the like. Other candles that I may put out are fall like colors, and some candles are even in really fun fall shapes.
I had never thought about using Halloween candles as a decoration, though. It was probably just an idea that never crossed my mind, really. There are so many cute novelty candles for Halloween, too, at Crafted Candles. Shapes like ghosts, bats, skulls and skeletons, even Owls! They also have pumpkins and candy corns that could bridge the Halloween and fall seasons.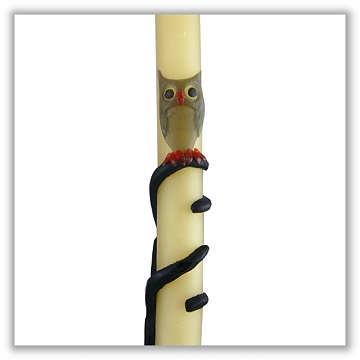 Crafted Candles doesn't just have pillar or taper candles, either. The also offer really cute molded candles, as well as decorated tapers and floating styles. While perusing their site, I've seen apples, oranges, gourds, cupcakes, and sooo many other styles.
Crafted Candles carries fantastic, top quality candles for any need that you have. Next time you're in the candle buying mood, check them out!
Be sure to enter to win $100 gift card to Crafted Candles, too. Sponsored by Crafted Candles and powered by Couponista Queen