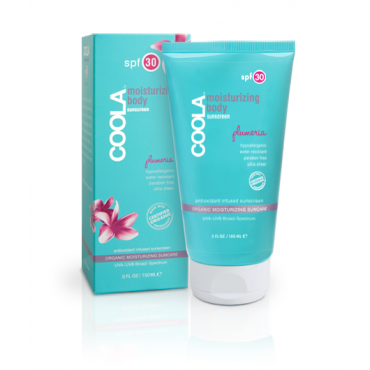 I'm a huge fan of going outside, when the weather permits. And most days, even when it's blazing hot, I go out for a little while. I like to walk for fitness and to clear my head. Unfortunately, I am a very pale redhead. This also means that I burn quickly and severely. YAY! Therefore, I need a good, decent sunscreen to protect my skin.
Oh, did I mention that I have sensitive skin, too? Yeah, I do. If you're keeping track that means I need a good sunscreen that is effective, protects my skin, and isn't irritating. I like to use natural products, too. Coola sunscreen fits all of these requirements, and then some.
I've been taking Coola's Moisturizing Body SPF 30 Sunscreen in Plumeria scent for a test drive this summer. I suppose if you want to get technical, I've been taking it for a test walk, test hikes, and test swims. This sunscreen has been up to the job of every test I've thrown at it!
We all like products that are effective, of course. But what about other benefits? Sometimes, I find that sunscreen leaves my skin a little dried out. Not so with this one! Coola's moisturizing sunscreen has several ingredients that provide deep-down moisturizing to your skin. It's also
Organic – Everyone is looking to use more organic products in their lives and routines
Hypoallergenic – which is great for those with sensitive skin
Water Resistant – Fantastic for us water babies
Ultra-sheer – this means no thick, white film on you
Paraben free – Parabens are being banned all over and are believed to cause cancer.
Anti-oxidant infused – Anti-oxidants do such great things for your skin and body
UVA and UVB Broad Spectrum – This protects you from the long range and short range rays of the sun.
So that's all really great! Can we talk about the scent for a minute? The scent is called Plumeria, and it is fantastic! It's a little bit flowery, with a faint scent of Plumeria flowers. Duh, right? But it's also really clean and beachy-smelling! It reminds me of Hawaii. The scent lingers, but isn't intrusive.
While I wasn't familiar with the Coola sunscreen or the brand before, I'll definitely be seeking it out now! You can buy it, along with lots of other really fantastic items, at Green Cupboards.
You can connect with Green Cupboards via their Facebook, Twitter, and Pinterest pages, too.