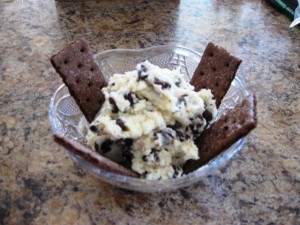 What's chocolate chip dip? I found myself asking that very question when I ventured over to Feisty FruGals. As it turns out, chocolate chip dip is kind of a cross between cookie dough and cheesecake. This would be great for a holiday gathering or a dessert bar. I'd probably serve this Chocolate Chip Dip with fruit and shortbread cookies.
Here's how to make it:
Ingredients:
8oz package of cream cheese, softened
1 stick of butter, softened
1 1/2 tsp of vanilla extract
1 cup of powdered sugar
1 cup of semi sweet chocolate chips
Cream together the cream cheese and butter, combining well. Add all other ingredients and stir them in.
I think you'd probably want to add the powdered sugar while you're creaming the butter and cream cheese.
Desiree @ Feisty FruGals also thinks you could freeze this dip. I don't see why you couldn't, as you can freeze cream cheese and butter.
Are you gonna try this out? Let me know!