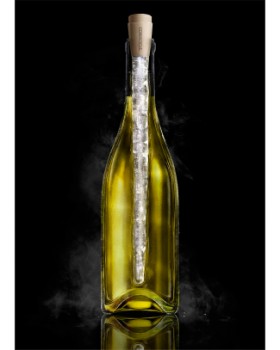 The weather is turning nicer and we're spending more and more time outdoors. For some people, that means family gatherings, picnics, and things like that. And what's one of the keys for a romantic picnic? A great bottle of wine.
But no one wants to drink warm wine! YUCK! What to do, what to do…Enter the Corkcicle! A Corkcicle is a great tool that helps keep your wine the perfect temperature. It's easy to use, too. Take your corkcicle and place it in your freezer. That way it's ready when you are. You simply open the bottle of wine, pour some out – have a small glass, perhaps? – and insert the frozen Corkcicle.

It's so easy, it's ridiculous! I took this to the pseudo-in-laws house. And I have to say, it was quite the conversation piece. Everyone wanted to know what was in the bottle of wine.
The Corkcicle is acrylic and comes pre-filled, so you don't have to worry about overfilling it. It's also easy to clean, so you don't contaminate each bottle. And there's a cork on the top, to form a seal.
Now, you do have to pre-chill your white wine and the Corkcicle keeps it at the perfect temperature. For red wines, you can just crack the bottle open and put the Corkcicle in. It will keep your win at the ideal temperature for up to 45 minutes, too!
These make a great gift for those that are hard to buy for. Corkcicle retails for around $25.