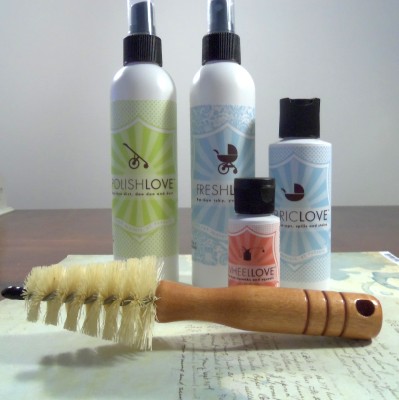 I had no idea that strollers had to be cleaned. I mean, I suppose it only makes sense, but not having kids, the thought had never really crossed my mind. Other than, maybe a quick wipe down and vacuuming out the crumbs. Imagine my surprise when a friend told me she was running late because she was cleaning her stroller. Alright, I tell her I'll come over.
So I head over to her house, and she's like, detailing, her stroller. The frame, wheels, the fabric cover, everything. By now, I'm totally intrigued. When I got home, I discovered there's a whole little industry devoted to stroller cleaners. The one that caught my eye, though, was BuggyLove.
BuggyLove makes all-natural products that are designed to clean your baby items. While they're intended for cleaning your stroller, I'm sure they're amazing for your carseat, carrier, swing, and other baby gadgets.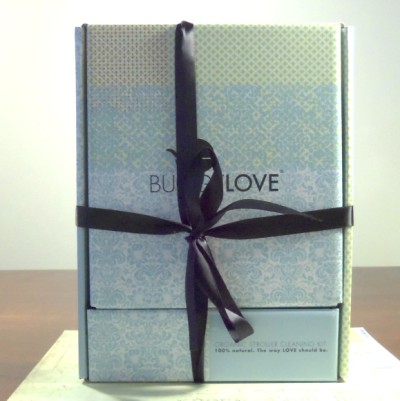 The Organic Stroller Cleaning Kit includes full size bottles of FRESHLove, PURE Love (aka POLISHLove), FABRICLove, and WHEELLove. It also has a great bristle brush, a micro fiber cleaning cloth, and an awesome branded carrying bag. In addition, it's packaged in the cutest box, totally ready for gift giving. If you've read HWYD at all, you know how much I love packaging!
FRESHLove is for general freshening. It also has odor neutralizing properties.
PURELove is a fantastic all-purpose surface cleaner. You know you want to clean any public surface before putting baby down on it. Tangerine scented, too.
FABRICLove is a general purpose fabric cleaner. You don't have to wash your fabric items after using, either. It will remove those pesky stains, too. And it's citrus scented. MMMMM…good!
WHEELLove is the first ever all-natural lubricant for stroller wheels. No need to grease your squeaky wheels!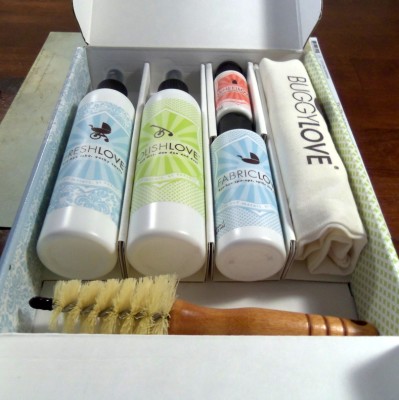 You can purchase BuggyLove at major retailers like Buy Buy Baby and Abe's Market, as well as direct from their site. Or look for a great baby store in your area.
I have a feeling BuggyLove will become a new go-to gift for baby showers!
Connect with Buggy Love on Twitter and Facebook too!