Brownies are one of my favorite things in the world. Probably top-5, and definitely in the top ten. When I first heard about Brownie Brittle, I was like "whhaaaaa????" I wasn't sure if it was bits of brownie in a sugar brittle, like peanut brittle. Or maybe it was like brownie bites with brittle in them – like toffee brownies!
NO! It's none of those things. Instead,
Brownie Brittle
is something I had never conceived of. It's a really thin layer of brownie with stuff in it! Really, just like the name says – Brownie Brittle.
I received three different flavors – Peanut Butter Chip, Chocolate Chip, and Toffee. Now, it's fairly well known that I have difficulty resisting anything that has both peanut butter and chocolate in it. Heck, I use that in my guest posting bios! I liked that the peanut butter chips almost gave it a lighter, less heavy taste. My pastry chef mom says that it almost tastes like meringue.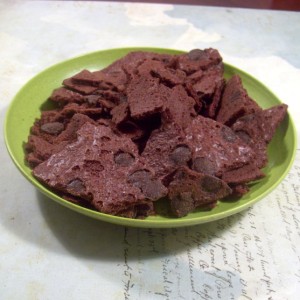 The Chocolate Chip flavor was a little too chocolatey for me. If you like chocolate overload, that is the one for you!
I think my favorite flavor is the Toffee. I am a sucker for toffee, so there's that. I thought that the little bits of toffee were a nice compliment to the rich, chocolate brownie flavor. The toffee had melted during the baking process, so they had a nice texture, too.
While the Brownie Brittle is great for snacking on, I think that it would be good for crumbling up on yogurt. And it would be really good as a topping for ice cream.