Coffee or tea for me? Well, really, I like both, but I only drink coffee as a frou frou drink. Tea? Well, tea is a different story. I love me some tea. Whether it's hot or iced, I drink tea regularly. Some might say I'm a bit of a tea snob.
\When the opportunity to review the Winter tea collection from Boston Tea Company arose, I jumped at the chance. Oooohhh…where do I start? The first one I sampled was the Ginger Peach White Tea. Called the champagne of teas, white tea has a very delicate and subtle, slightly sweet natural flavor. It is also higher in anti-oxidants than green tea. The ginger peach flavor complimented the tea taste nicely, lending a wonderful aroma. I've been drinking this in the evening, as white tea is low in caffiene.
Next, we tried the Organic Lovely Lemon green tea. I have to confess – I'm not a fan of lemon with tea or green tea. Needless to say, this was not one of my favorites. I think it would be good for iced tea when mixed with black tea.
Peppermint Candy Cane tea was really great. It had a very strong mint flavor, which I like. We also made a pitcher of iced tea, which was very cool and refreshing. I may put the rest of this away until summer and have Peppermint iced tea all summer long.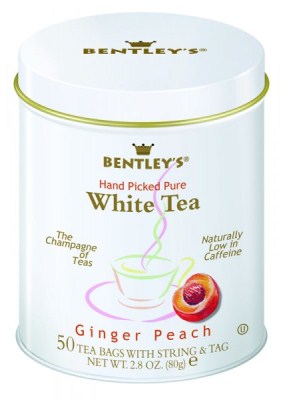 The Red Rooibos (roy-boss) Chocolate Mint tea…what can I say? If I didn't know this was tea, I might have eaten the teabag! The chocolate aroma was so powerful! Chocolate tea? Oh yes please!! I wasn't particularly familiar with Rooibos tea. It was discovered in 1904 in South Africa and has a naturally sweet and nutty flavor. Rooibos tea is also low in tannins, for those that have delicate stomachs that can't handle acids as well.
Blueberry and Cranberry black tea is another new twist on a classic. I am a big fan of fruit flavored teas – my favorite is a passionfruit tea that I had in Mexico a few years back. This Blueberry & Cranberry black tea will be a great addition to my fruit tea repertoire. It has a strong, slightly sweet, very berry taste. It was good hot, but really great as iced tea.
Rounding out the collection is Acai Berry and Blackberry Green Tea. This is another tasty fruit tea, albeit more delicate than the Blueberry and Cranberry tea. Green tea is super rich in anti-oxidants, while Acai berries are believed to help reduce the destructive properties of free radicals. Who knew something so tasty could be so good for you?
There are many types of tea, each with their own benefits. Add in the different flavors, and the selection of tea is almost infinite.
I received no compensation for this post. I did receive sample product for review purposes only. All opinions are my own.