You know how most people make their Black Friday plan of attack? Well, we're doing the same thing. Except, we're shopping Small Business Saturday instead. This year, Small Business Saturday is November 24, 2012
Should we start in town, and work our way around town, back towards our house in the suburbs? Or should we start closer to the house and work our way into town?
There's only really one place in town I want to go to, The Red Poppy Boutique, so maybe we'll hit there first. They recently moved into a much bigger space in a much better location, and I haven't had a chance to pop in yet. Small Business Saturday seems like the perfect time to visit!
In town, there's half a dozen places I want to go. There's a gift store called The Thicket that I might stop by. They have a lot of items that would make great gifts for people that I need to get things for. They always have open houses and bring in fun seasonal items. I haven't been in since the fall open house in September, so I'd love to see what kind of holiday items they have. They tend to have all kind of awesome stuff, like high end bath & body products, fashion & décor items. And they have some of the absolute cutest baby products!
I was also thinking about swinging by a new store that I discovered over the summer. I have no idea what it's called because I can't read the sign! It's white scripty writing that's really hard to read when you're driving by. Anyway, I drive by this place several times a week, but I never seemed to go by when they were open. Or when they were open, I didn't have the time to stop in. One day, in late summer, the stars aligned! They were open AND I was looking for somewhere to go. The area under the awning is usually filled with all types of fantastic treasures.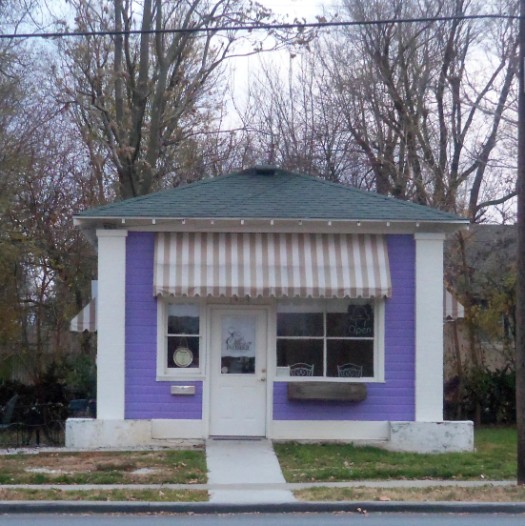 And of course, we'll want to eat! We'll probably start the day off at Elle's Patisserie. They have some of the best pastries in town. But you have to go early or it's really slim pickins and you leave kinda disappointed! Especially if you want an almond filled croissant. The truffles are good, too. But even I can't justify truffles for breakfast.
After a loooonnnngggg day of shopping, I think a late lunch is probably in order as well. Or maybe it's an early dinner. We'll compromise and call it linner. One of my favorite places to go is a restaurant called Bambino's. It's a hidden little place that you'd never know about if you didn't hear about it. I mean, I lived here for years before stumbling upon it by accident. I was driving around in the Phelps Grove neighbourhood and drove up a street. There it was – a little restaurant! Hmm…how long has this place been here? 7 years as it turns out. Ever since I discovered this place, I've been coming here regularly.
Phew! That's a pretty jam-packed day. I'm sure we'll end up at a few other places, too, but that's my main game plan. Where are you shopping on Small Business Saturday?
I participated in a campaign on behalf of Mom Central Consulting for American Express. I received a promotional item to thank me for participating.