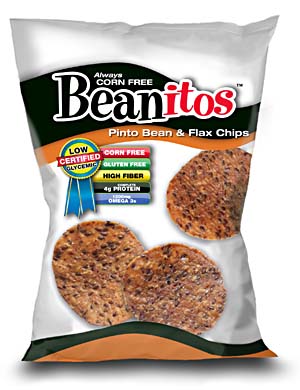 As I may have mentioned a time or two, I love snack foods. As I get older, I've been trying to eat better. One of the best ways that I can do that is by eating snack foods that are better for me. Beanitos Chips fill the bill.
Beanitos are, as they name implies, chips made from beans. I know you've got doubts about them. But I am here to tell you – they're good. Really good and tasty.
Beanitos chips are corn free and gluten free. They're also wheat, soy, and potato free. Plus, they're high in fiber and protein. Even though Beanitos Chips are made from beans, they don't create gas in your stomach. How do they do that? It's a secret! Well, it's really that these are a complete protein and incomplete proteins are what creates gas.
Beanitos come in 4 different flavors:
Pinto Bean and Flax – A tasty, slightly nutty chip. These are a fantastic alternative to traditional tortilla chips. I think these would be good for Nachos. But, then again, I kind of really like Nachos.
Pinto Bean and Flax Cheddar Cheese – The same great base as the Pinto Bean and Flax chips with a powdered nacho cheese coating. I thought that the cheese flavor was a little bit spicy, but I'm a lightweight when it comes to spice. Soooo much better for you than the big brand nacho cheese chips that you can get.
Black Bean Chips – These reminded me of a lighter version of blue corn tortilla chips. Light, puffy, and somewhat salty, these were by far our favorite.
Chipotle BBQ – Spicy Chipotle and distinct BBQ. I didn't try these, as I'm not a spicy food fan, but I heard from others that they were good.
Where to buy Beanitos Chips
Where would someone find such good for you snacks? At your local store, of course! A Whole Foods or health food store is going to be more likely to carry these. You can also purchase Beanitos Chips online. They cost about the same (or less!) than the big brand name chips. Beanitos has a $1 off coupon on their site, too!