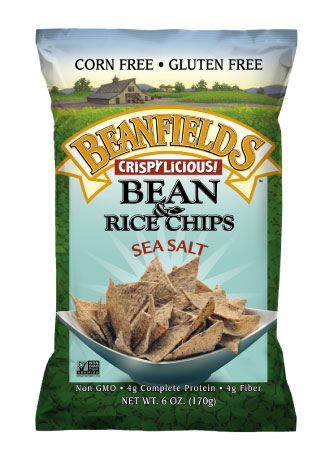 I have to make a confession. I like junk food. Like, I really like junk food. I know I shouldn't, but…I … just … can't … resist. I've been trying to make better decisions in my life, but sometimes, it's just so dang difficult!
One of the things that do make me feel better about my snacking habits – oh, who am I kidding – they're my eating habits! Anyway, one of the things that make me feel better is the fact that there are so many healthy options on the market these days.
Beanfields Rice and Bean Chips
are one of these better options.
Beanfields Rice and Bean Chips are all kinds of tasty awesomeness. First off, they're really crispy and light. Next, they're not greasy at all, which is really nice. I hate having an oil slick on my fingers. Beanfields has really good flavors for their chips, too. Flavors like Nacho, Sea Salt, Pico de Gallo, Sea Salt and Pepper, and good ol' plain – which are anything but!
What makes Beanfields Chips a good choice though? Well, lots of things. They're made without corn and are gluten free. Instead of corn, like most tortilla chips, these are made with navy beans, black beans, and long grain rice. These chips also have 4 grams of protein and 4 grams of fiber per 1 oz. serving. They're free of the USDA's top 8 food allergens. And, they're free of genetically modified organisms (non-GMO).
While all the flavors were good, my favorite was the Nacho. I like the nacho flavor of other chips, and these were a good match. We also really liked the plain, sea salt, and salt and pepper with salsa and guacamole, although they didn't need the guac or salsa!
Unfortunately, as of this writing, Beanfields Rice and Bean Chips are available in limited areas. If you happen to find them in your area, grab a bag and try them out!