Sooo…you know how everyone has "their spot" or "their chair?" Now you can have an awesome seat of your own with the Aria Teak Rocker from Westminster Teak.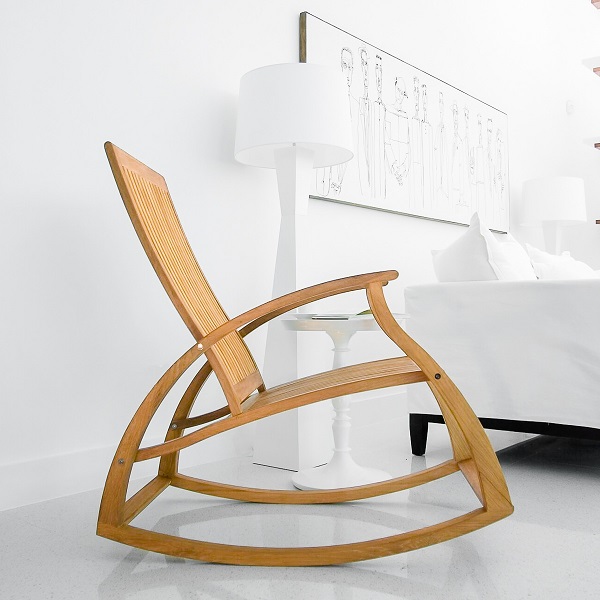 This stylish rocker is designed to maximize comfort, and it looks great while doing it. Enter to win one (valued at $1720!!) for yourself and you'll be the envy of all your friends and family!
Teak is a wood that fell out of favor for several years, but it's back, baby! One of the issues with teak was that it was destroying the rainforests. Modern day teak is grown sustainably and harvested responsibly. It's also naturally rot resistant, and resistant to termites and other insects.
The Aria Teak Rocker
Defined by its sensuous curves and sweeping fluid lines, the Aria Teak Rocker is bound to be the conversational piece in any space. The Aria rocking chair is ergonomically designed with a contoured backrest and seat to maximize hours of comfortable seating, even without cushions. The extended rocking-arc and slightly tilted stance of the chair provides a pleasurable and gentle rocking motion.
The Neckroll and optional cushions are made with Quick Dry Foam® core and 100% solution dyed Sunbrella fabrics. Built with 100% Premium Teak harvested from sustainable plantations in Indonesia. Every piece is precision manufactured to standard specifications for commercial and residential use.
About Westminster Teak
Westminster Teak specializes in high-end teak furniture and their steamer chair was rated "Best Overall" by the Wall Street Journal. The company offers a lifetime guarantee on all teak furniture, as well as a money-back guarantee that includes free shipping if you're not satisfied with your purchase. Westminster only uses teak from certified renewable plantations. For more on the perfect outdoor living check out what Westminster Teak has to offer today via their website as well as Facebook and Instagram.
Enter to win an Aria Teak Rocker valued at $1720 using the Giveaway Tools form below. GOOD LUCK!