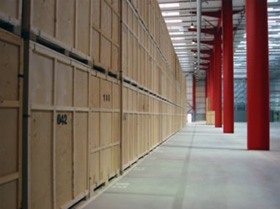 I've always moved a lot. It seems that as long as I can remember, the longest we stayed in one area was about 2 years. I suppose it was the restless spirit that kept us on the move. The most traumatic of these moves was when we moved to Hawaii.
I was 5 or 6, and we got rid of absolutely everything we owned. We literally moved with just a couple of suitcases. Our condo was furnished, so it wasn't as bad as it sounds. Anyway, I had this tiny fold-up table and itty bitty school chair that I just adored. My mom got rid of them, and I thought my heart would break. I mean, you can tell that 24 years later, I still have issues with it, right?
There was an opportunity about 6 or 8 months ago where it looked like I might re-locate to Canada. While it was more of a lark that was pursued than a really serious opportunity, I imagine that move would have been somewhat similar to the Hawaii move. I'm sure rather than garage sale-ing and donating everything, we probably would have put it in storage.
Had we moved to Quebec, we'd need to know moving terms in French, too! Déménagement Montréal is Move to Montreal. Entreposage Montréal is Montreal Storage.
Now you're prepared for your move, too!
Brought to you by your friends at ADT moving. All opinions are mine.