There are a few things that I am a sucker for. Baby animals, coffee drinks, and glitter are amongst those things. Something else I cannot resist – subscription boxes. I recently had the opportunity to check out the Beauty Box 5 again when the good folks over there sent me the April 2014 Beauty Box 5.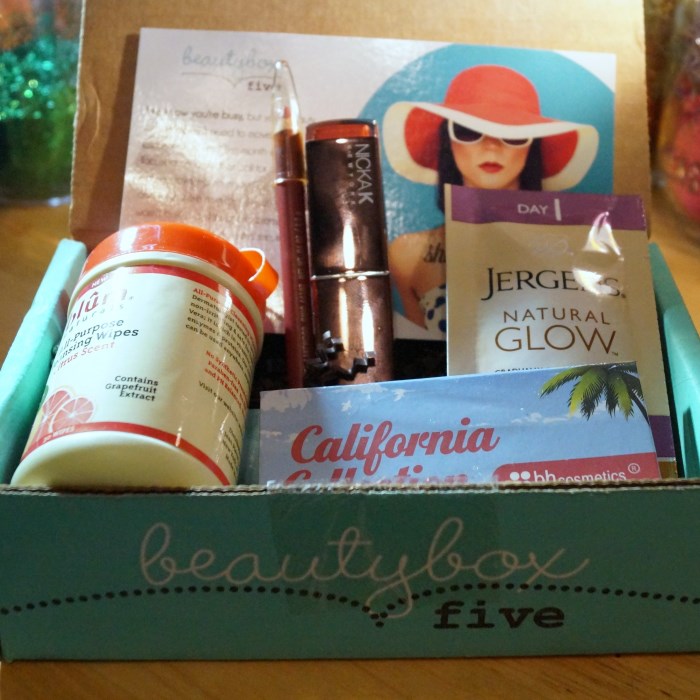 Beauty Box 5 is a subscription box that is beauty themed and has 5 items included each month. Pretty self-explanatory, right?
Here's what's in the April 2014 Beauty Box 5
Blum Naturals All Purpose Cleansing Cloths in Citrus – These are made with natural and organic ingredients. Hypoallergenic, infused with aloe, and safe for everyone. I love how convenient these are to take along with you. 30 ct, which is full sized. Retails for $2.49
Nicka K New York lipstick in Begonia – A gorgeous metallic coppery rosy red. It's like a dark rose gold. Creamy texture, too. It didn't come off on my glass, either, which is a total bonus! This is another full size item, which retails for $4.99
BH Cosmetics California Collection Eye shadow Trio – I am not a fan of this. The shadows are chalky with little color payoff. I got the same exact sample in another subscription box about 8 months ago, and didn't care for it then, either.
Jergens Natural Glow 3 Days to Glow Moisturizer – I used to love this stuff! It gradually gives you the appearance of being tan while also moisturizing your skin. I haven't tried it in a couple of years, so I'm sort of excited to give it another go. This is a very generous 3 day sample.
Bonne Bell Lip Definer Lip Pencil in Apple Cider – You don't seem to see many lip liners these days. It probably has to do with using mostly lip glosses and lip stains rather than lipsticks. Anyway, this one is a nice creamy texture that is the perfect complement to the Nicka K lipstick in Begonia. Retails for $3.95
You can get Beauty Box 5 starting at $12/mo.  Personally, I would give it a try for the 3 months at $30.