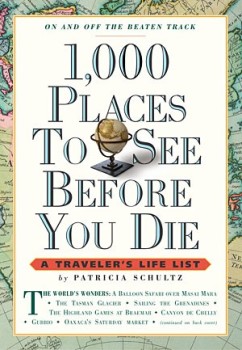 If you have read How Was Your Day for any length of time, you know I love to travel.
I like getting in the car, hopping on a plane, and going somewhere new.
I have no fear of going to some place where I have never been before, know no one, and just GO.
Some of my best experiences have been just that – get in the car and GO.
1000 Places to See Before You Die is my kind of book!
I just opened to my state, and unfortunately, it confirmed my suspicions…there is nothing to see here.
But the rest of the states (except Arkansas – nothing there, either), there are so many things to see and do!
But this book doesn't stop at the US.
It covers things to see worldwide!
I can open this book to almost any page, and start an imaginary trip to, say, Australia; a place I've always wanted to visit.
I would go see the Blue Mountains, the Sydney Opera House, Cape Tribulation and the Uluru and Kata Tjuta (Ayers Rock and the Olgas).
Oh, and don't forget about the Great Barrier Reef!
This book reminds me of the AAA Tour Books I've seen – little bits of information about
places, organized in how to get there, what to see once you get there, where to dine, etc.
Only 1000 Things to See before You Die is a worldwide based guide, as opposed to a state or country guide.
I have enjoyed perusing the pages, planning my next getaways – as I said there is nothing to see here, but I feel the open road calling my name.
1000 Things to See Before You Die by Patricia Schultz
Workman Publishing, $19.95