I absolutely adore bread pudding, and this pumpkin bread pudding is no different.  I was never much of a fan as a child, but something happened when I started college.  I don't know if it was the comfort food aspects of it, or what, but I started having bread pudding on a regular basis.
This pumpkin bread pudding with homemade caramel sauce is easy, fairly quick, and nade to impress your friends.  Serve it as a fantastic dessert or as breakfast on a special day.
Pumpkin Bread Pudding with Caramel Sauce
Pumpkin Bread Pudding Recipe with Homemade Caramel Sauce
Author:
Greta @ How Was Your Day
Prep time:
Cook time:
Total time:
Traditional bread pudding with a thoroughly modern twist. Eat on it's own, with fresh whipped cream, or pair it with the homemade caramel sauce.
Ingredients
2 Cups Half and Half
1 15 oz. can Pumpkin (not Pumpkin Pie filling)
1 ¼ Cups Dark Brown Sugar
2 Large Eggs
½ teaspoon Salt
1 ½ teaspoons Pumpkin Pie Spice
1 ½ teaspoons Cinnamon
1 ½ teaspoons Vanilla
10 Cups Bread, cut into ½ inch cubes
½ Cup Raisins or Dried Cranberries, optional
Instructions
Heat oven to 350 degrees. Grease a 13 x 9 inch pan.
Empty can of Pumpkin into bowl. Add Brown Sugar and mix. Add Eggs, blend until well incorporated with Pumpkin mixture.
Stir in Salt, Spices and Vanilla. Add Half and Half, mixing until thoroughly combined. If using Raisins, add them now.
Put Bread cubes into greased pan; Pour pumpkin mixture over Bread cubes. Stir gently to coat bread on all sides. Let pan sit for 15 minutes.
Place pan in oven and bake for about 30-40 minutes, until toothpick inserted into the center comes out clean. Let cool slightly.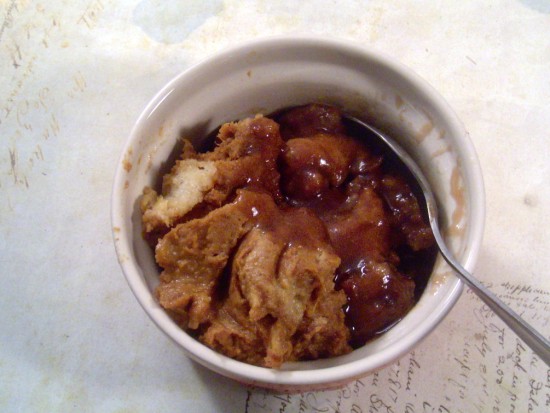 Homemade Caramel Sauce Recipe
This is a good basic recipe that can be used on ice cream, coffee drinks, or any time you want to add a great Caramel flavor.
 ½ Cup Butter
1 ¼ Cups Dark Brown Sugar
½ Cup Milk (you may use milk, Half and Half or Whipping Cream)
2 Tablespoons Maple Syrup or Light Corn Syrup
Melt Butter in skillet over Medium heat. While Butter is melting, add the Syrup and Brown Sugar, stirring until the Sugar has dissolved. Pour in the Milk and bring to a boil, while stirring frequently. Cook about stir for 3 minutes. Remove from heat; let cool slightly before serving.