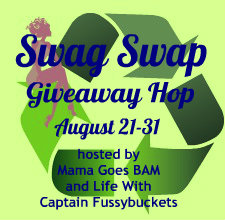 Welcome to The Swag Swap Giveaway Hop hosted by Life Captain Fussybuckets and Mama goes BAM. This is a special event to thank you, our readers. It's also your chance to get your hands on some of the best swag from some of your favorite bloggers.
The event begins at 12:01 AM August 21 and ends 11:59 PM August 31.
Here at How Was Your Day, I have put together 2 awesome boxes of swag! Ok, I admit it. That's a lie! I'm still putting them together. Each mystery box will have an ARV of at least $100.
Box #1 is a general mystery box of all kinds of goodies. You never know what might be in there. I have started the box with some amazing tea, a purse hanger, and a necklace.
Box #2 is an awesome mystery box of DIY and crafty bits. So far, this box has charms, beads, yarns, and some paper.
Each winner will get to customize their box slightly. Meaning, I'll ask some questions and may tailor items to suit. Oh, and did I mention? They're both open worldwide. 'Cause I'm cool like that.
Enter in the rafflecopter form after the jump.
Then be sure to hit up everyone else and see what kind of box they've put together.