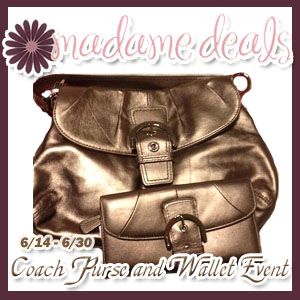 We all know and love Coach designer bags. Here's the opportunity to win a Coach bag and matching wallet. This time, we're giving away a SoHo Leather Flap Purse in Silver-Bronze. But wait, there's more! We're also giving away a matching wallet in the same SoHo style and silver-bronze color. Pretty chic, no?
**Powered by Madame Deals and Slop Swap**
Thanks to our hosts for helping us run this great giveaway: Dixieland Product Reviews & Giveaways Colleen's Book Nook Still Blonde after all these YEARS Saving More Than Me Diva Fabulosa
This giveaway will run from 6/14 12:01 am EST thru 6/30 11:59 pm EST
If you've entered any of our other Madamde Deals Events, this will be easy for you.
There is 1 mandatory entry of a blog comment plus Facebook likes for bonus entries.
Wait for the Rafflecopter to load and enter below: