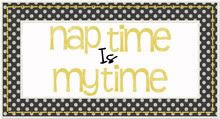 Nap Time Is My Time is one of the blogs that I check out regularly. Emily has a myriad of things she blogs about, but usually it's about her transition from working woman to mom.
One of the things that I really like are the different recipes that Emily Nap Time (yep, that's her name) shares. Like her
Lobster Mac N Cheese
or
Scallops Mascarpone
. Sometimes, when I get it together enough, I even link up to Whip It Up Wednesday. It's a blog hop for creative projects and recipes. It just so happens that Nap Time Is My Time is the host for this super fun hop. Sometimes, she even has fun and crafty DIY projects.
Toss in a dose of parenting advice – I skip that, as it doesn't really apply. Add in a helping of reviews and sprinkle with some giveaways. Voila!
Check it out and see if you don't want to add Nap Time Is My Time to your reading repertoire.